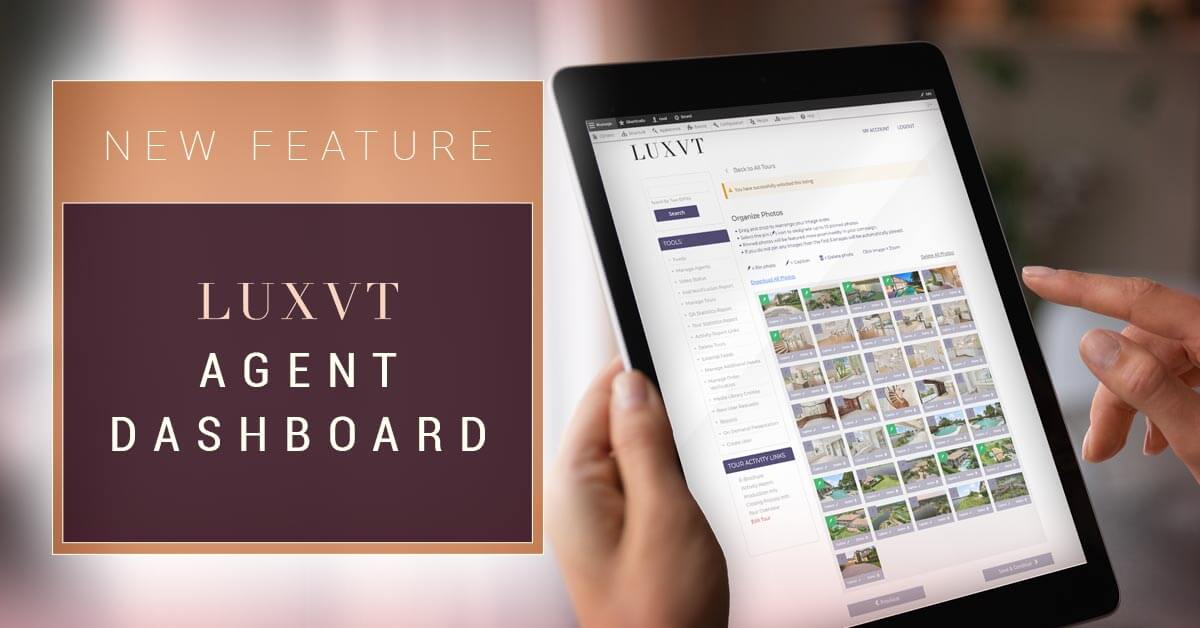 LUXVT Agent Dashboard Delivers Luxury Real Estate Marketing as All-in-One Package
---
The best real estate marketing materials and services are now brought together in one package through the LUXVT Dashboard.
Have you logged in to the new LUXVT Agent Dashboard yet? Here are our top 6 features to help you boost your brand, streamline your business and dazzle your clients.
Create A Custom Listing Presentation
Use the custom Listing Presentation Creator to generate a personalized Real Estate Presentation tailored to any listing. Users with free accounts can get a limited trial, and LUXVT members get unlimited access.
Plan The Perfect Listing Campaign
Use the new Listing Planner to map out the perfect marketing strategy, find resources and advice, and deploy a winning campaign.
Join the LUXVT Agent Network
Join our Luxury Real Estate Agent Network! LUXVT helps find the best real estate agents for upscale listings, and agents can join the network and be discovered instantly.
Grab Some Free Social Media Graphics
Liven up your social media with our library of Social Media Graphics designed for real estate, luxury lifestyles, holidays, inspiration and more.
Launch A Luxury Landing Page (Members Only)
A great Luxury Landing Page can help you show prospective sellers that you've got the most to offer with world class marketing, global exposure and elite advertising. Members can launch a Luxury Landing Page that is a stunning, elegant mobile friendly showcase to sign more luxury listings.
Sign Up For Social Posting (Members Only)
Take some of the effort out of your social media management with this simple, elegant Luxury Social Posting service! Our editors will automatically post curated upscale themed content to a social media platform.
What is the LUXVT Dashboard?
Real estate marketing requires agents and brokers to quickly deliver a range of services that are tailored to their unique approach. This holds especially true in the luxury market, where marketing strategies build off the character and draw of an agent. The LUXVT Dashboard is a real estate tool designed for agents; it is free to sign up, and gives agents access to promotional tools for individual listings.
From elegant brochures to targeted social media ads, the LUXVT Dashboard gathers together many different types of marketing material, including many customizable options. It offers the best platform for agents to find resources to showcase their property portfolio. Through LUXVT, agents are also able to access a list of vetted companies in their market offering drone photography, virtual staging and other services luxury clients have come to expect and appreciate. Across new sales, technology has become an essential tool for agents marketing to their clients.
LUXVT Dashboard for Members
One of the main benefits of the LUXVT Dashboard is to distribute listings to multiple, impactful sources at one time. For members, you can upload content, including images, videos, descriptions, listing prices, and more to the dashboard. These can be sent to publications for media updates, and afterward, agents can review reports of placements and their performance.
LUXVT Dashboard & Presentation Creator
The LUXVT Dashboard has a series of features for members, and those who are interested can begin with the Listing Presentation Creator today for free. With the Listing Presentation Creator, you can generate a personalized Real Estate Presentation tailored to any listing in just a few seconds from your computer, tablet or smartphone to show prospective sellers and buyers that you offer world-class marketing.
For more information on the dashboard and its features, sign up for a free today.