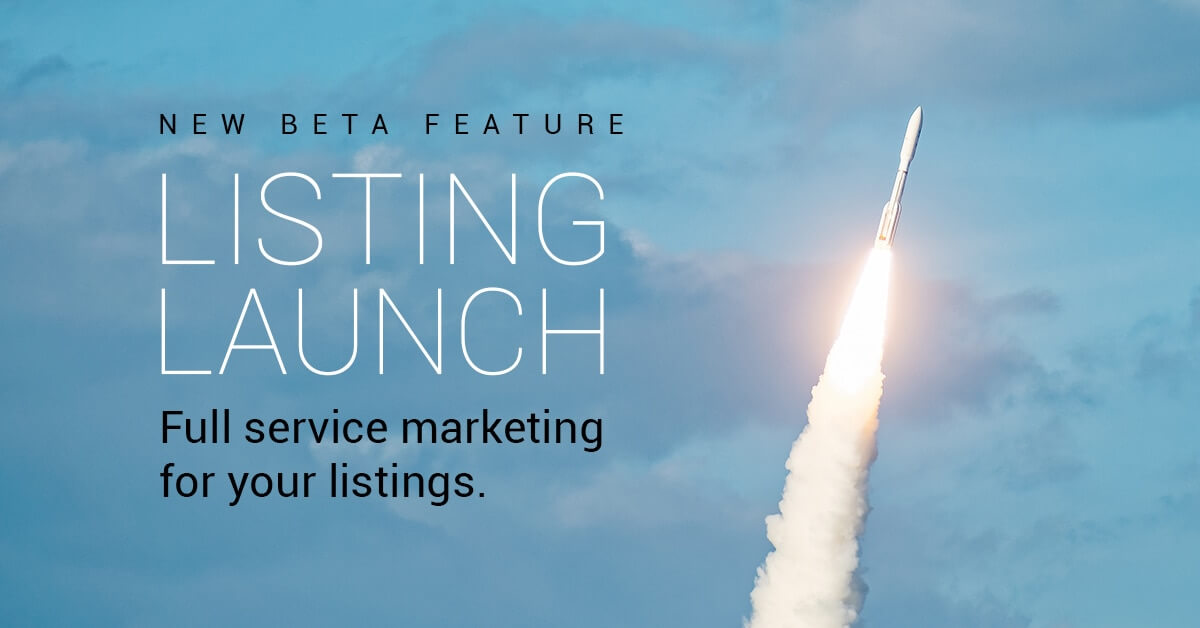 New Beta Feature: LISTING LAUNCH Full Service Marketing
---
We're excited to announce the upcoming beta test of a new member exclusive service from LUXVT called Listing Launch.
It's a one-stop concierge service to help you deploy all of your listing marketing instantly.
As a part of this service, the LUXVT expert marketing team will help you with much more than the LUXVT product suite. We'll also help you find and deploy products and services like pro photography, 3D/VR tours, digital and print catalogs, video editing, graphic design, social media, local advertising and much more – all tailored to your brand and program.
Think of it as a specialized Marketing Manager just for your luxury listings. Your LUXVT Coordinator will work with your preferred vendors or help you find a perfect fit from our recommended pros. We'll help with scheduling, consolidate billing, and organize your marketing assets to make sure everything is in the right hands when its needed.
Most importantly we'll make sure all the great marketing work you do for your listings is seen and appreciated by your sellers – and by future sellers!
If you're a LUXVT Member and would like to learn more or try the service, please book a consultation here.
LUXVT Listing Launch – How It Works
Getting Started – BEFORE You List
Consult with your LUXVT Coordinator to design your perfect listing plans and budgets
Select from our recommended vendors, products and services – or bring your own
We'll even help you craft a custom Marketing Catalog and Luxury Landing Page that showcases your offering to sellers.
When You List
When you get a new listing, your LUXVT Coordinator will jump into action:
Book local photography, videography and/or staging services
Coordinate creation and delivery of print, mail, signage and digital assets
Collect and manage your listing assets into your LUXVT dashboard for easy access and sharing
Deploy your LUXVT advertising, tech and media
Input/upload listing to listing portals and syndication services*
Place and track local, PPC, social media or other advertising
Boost social media messaging on your own channels and pages
Coordinate and promote your Virtual Open House events
Track delivery and resolve issues with vendors and service providers
Provide reporting and seller communication tools to keep your clients thrilled
Deploy a "Just Sold" marketing campaign upon successful sale.
The Fine Print
This service is in early beta test mode, so info here is subject to change.
LUXVT Listing Launch is available exclusively to LUXVT Members. 
The service will be free during the beta stage (however participation with a LUXVT listing campaign is required, and any applicable fees apply) 
After the service is officially launched, if you choose to continue using the service for future listings there will be a per-listing surcharge estimated based on the scope of work.  
Like the Pay At Close fee, this surcharge would only be paid if the listing sells.
Any third party vendor costs are due at the time they are incurred.
If you're a LUXVT Member and would like to learn more or try the service, please book a consultation here.