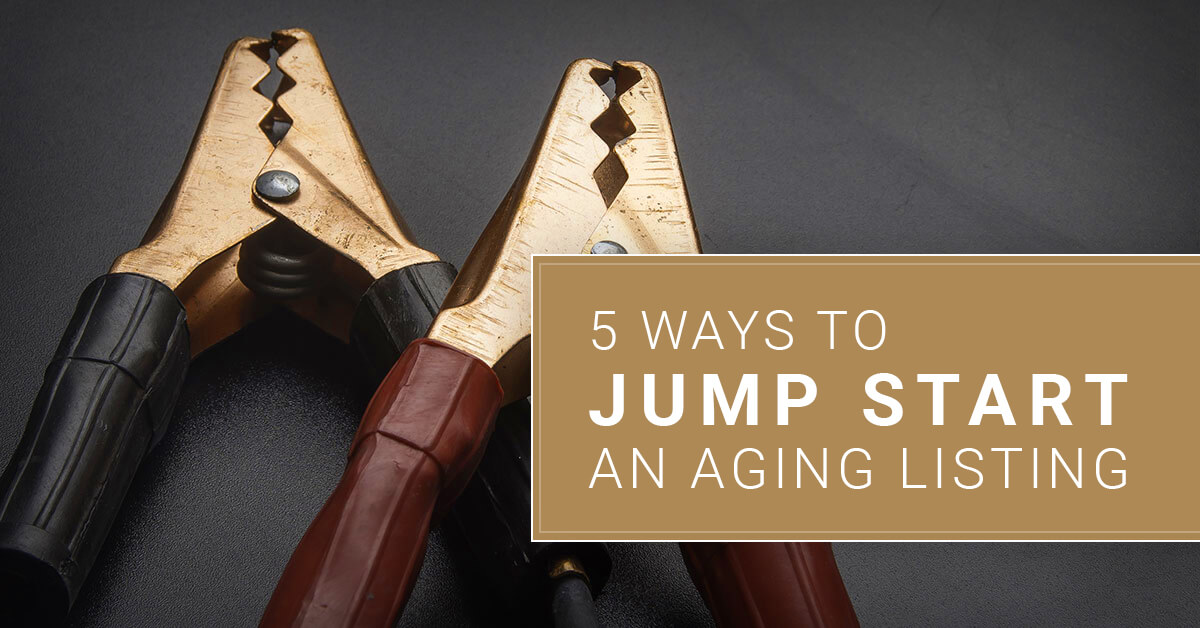 5 Ways to Jump Start an Aging Listing
---
In real estate, you have properties that are quick wins—ones that are in such high demand that the time between posting the listing and closing the sale seems almost instantaneous.
But other properties don't draw as much attention… or any at all. What does an agent do with these aging listings? If you just let them collect dust, your sellers will think that the problem with the listing isn't the property, but you as their agent. But putting forth effort in finding new ways to reinvigorate your aging listing marketing strategy will show your sellers how far above and beyond you'll go than a different agent.
We've discussed re-energizing aging listings before, but in this post, we'll mainly focus on marketing tactics you may not be using yet to attract a wider audience. Doing more than the standard marketing strategy builds confidence within your sellers that you'll do what's best for them. So, they'll be more willing to agree to things they normally wouldn't—such as changing the price on a listing.
Of course, LUXVT is great at reinvigorating aging listings and showing clients your dedication. LUXVT puts your client listings in respected publications and international markets so their properties are placed next to the most luxurious listings out there. The following marketing tactics will work perfectly in conjunction with LUXVT.
So, without further ado!
5 Ways to Jump Start an Aging Listing
1. Reach the Appropriate Outlet
When promoting your listing, you need to remember that there's no central listing database that everyone looking for homes goes to. Instead, there are various platforms for listings, like big sites such as Zillow, Trulia, and Redfin, and smaller, localized sites. There are even Facebook groups dedicated to providing listings for a specific area.
And what makes one person choose one listing site over the other?
Personal preference.
So, if you're loyal to one or two listing sites because you like their user interfaces, you're not reaching the largest audience you can. Someone who exclusively uses Redfin may be the perfect buyer for a listing that's been languishing but won't see it because you only post to Zillow.
You can then work with your client and analyze just how effective this diversification was by showing them the views of their listings on each site.
For aging listings, diversifying your advertising outlets is essential.
2. Optimize Your Site for Mobile
It's a fact: 52% of home buyers use their smartphones when searching through listings. That means if your website isn't optimized for mobile devices, 52% of potential buyers will look straight past your listings.
You can optimize your site for mobile in three ways: create a responsive website, build an adaptive site, or construct a separate mobile site.
Whichever way you choose to do it, what's most important is visitors being able to easily navigate your site on their mobile devices. That means buttons and menus large enough for them to tap with their fingers, text that's legible on smaller phone screens, and a layout that's simple to scroll through.
Once implemented, you'll be able to track how much more traffic your website receives through Google Analytics. And, best of all, you'll be able to show your clients how good your mobile site is at directing visitors to their listings.
3. Reach Out to Buyer Agents
Though online is where most home buyers commence their searches, 88% of first time home buyers use a real estate agent, and 20% of all home buyers don't search online at all.
By reaching out to a buyer agent, you ensure that even those who don't search online are still aware of your listings. The buyer agent is also able to assess whether any of your properties match what their clients are looking for. After all, home buyers rely on agents for their expertise, and if they think a property aligns with what they've been looking for, they're more likely to take a look and close the deal!
You can schedule an email blast to buyer agents using a service like HubSpot or MailChimp. This way, you'll be able to track your open rates and click-through-rates to tell which agents are most interested in referring your listings to their clients. You can also show these datasets to your sellers.
Also, with 5.5 million existing home sales in 2016 alone, there's a lot of clutter in the market. Any chance you have to stand out is one to try.
4. Promote on Social Media
Only 9% of real estate agents use social media for listing promotion.
Facebook has 1.73 billion daily active users.
Since there's such a large user base on Facebook, and your competitors aren't promoting there, it's an opportunity you can leverage.
But a word of warning about promoting on social media: you'll want to post more than just your listings. People use platforms like Facebook and Twitter to join in on conversations and be part of trending topics. You'll want to mix in some of engagement posts. Too much promotion will cause your followers to overlook your posts, or worse, make Facebook hide your posts from their feeds.
Of course, any social media marketing effort should be paired with a paid advertising approach. Paid ads on Facebook allow you to promote your listings straight to the people who will want to see them most—your target audience.
When you're promoting your listing, just select the specific demographics of your audience. The filters go deep, allowing you to direct your ads to audiences by age, income level, interests, and even the causes they believe in.
And Facebook gives you analytics for your paid advertising so you can see how far your spend went. You'll see how many people saw your ad, how many clicked on it, and how far your ROI went. If you like the results, consider using paid advertising for your other aging listings.
5. Virtual Tours on YouTube
YouTube is an extremely powerful and popular tool. The platform processes more than 3 billion searches per month, which means virtual tours are a great way to get your listing found.
When filming your virtual tour, you'll want to take a similar approach as you would when staging a property or taking photos. The interior should be clean and the outside should be maintained.
You'll also want to rent a professional camera, or hire a videographer. Make sure that you film the tour in 720p or higher—lower resolutions will reduce the image quality and potential buyers will have a harder time imagining themselves living in the home.
Another tip for posting on YouTube is to tag the listing by location, and name the video after the property address. You'll also want to put all your contact information in the video's description so your viewers can easily reach you.
The video itself will showcase your hard work on promoting the listing, but you can also provide analytics such as views and impressions.
Remember to never give up on your aging listings. They're a great opportunity to experiment with new marketing tactics. Who knows, maybe your aging listing marketing strategy will become your new strategy for all your listings.