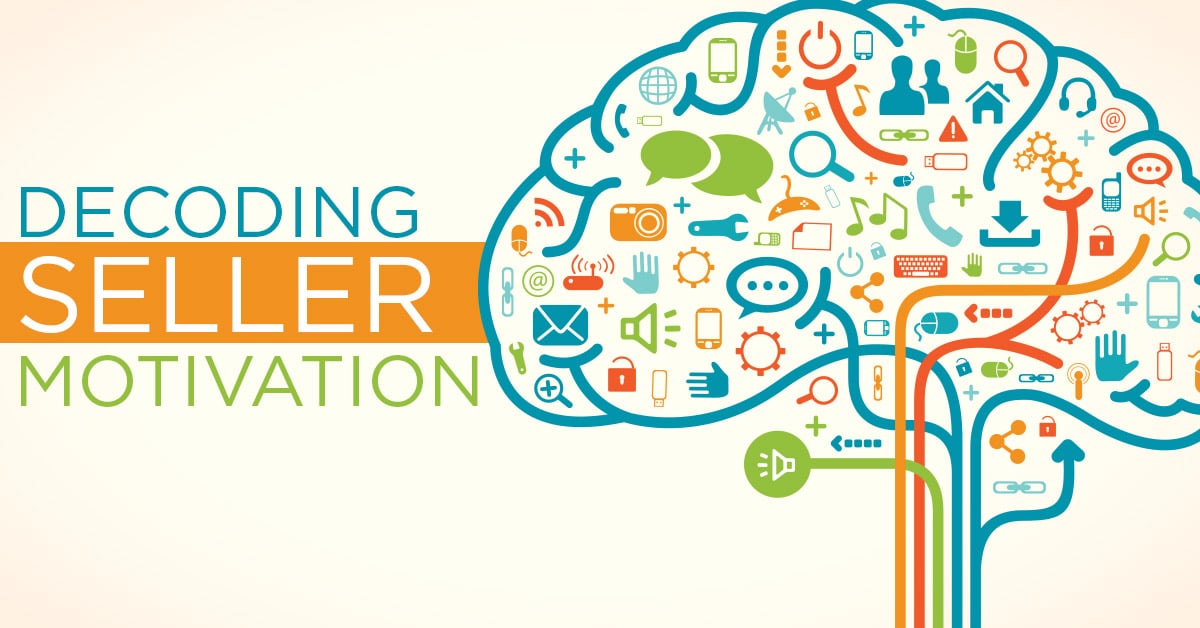 Why Seller Motivation Matters (and How to Decode it)
---
There's more to acquiring a new listing than walking away with a handshake and visions of open houses and commission checks in your mind. Understanding the seller's motivation is paramount for meeting expectations, planning your selling strategy and, most importantly, managing your time effectively. Someone selling due to an expensive, non-amicable divorce will undoubtedly require different attention than someone selling their luxury real estate property simply because they have no need for it anymore. Understanding seller motivation as soon as possible is key.
In fact, screening your potential clients is a great way to determine whether you actually want the listing in the first place. If you find a seller who is thinking they will "most likely sell if the right buyer comes along," you're looking at a property you'll likely end up in the red on. No one wants to pay for an open house, marketing materials and staging only to have their client pull the listing after offers start rolling in.
Most agents are able to discover seller motivation pretty easily, in fact, the seller will often bring it up in the first conversation. Digging a bit deeper, however, takes more investigating. Once you understand all you can about your seller and their motivation, you can then make a business-savvy decision regarding how you want to proceed.
First, let's address why seller motivation matters and then we'll get to the ideal questions for getting the information you need.
Why Seller Motivation Matters
You'll waste less time on dead-end listings.
You'll have a better idea of what offers the seller will bite at and which will offend them.
If the seller is money-motivated and needs cash fast, you will know when to offer a price-reduction in order to keep the listing from going stale.
If they are selling in order to buy a new property, you can start planning how to best represent them as a buyer.
Now, getting to the nitty gritty. If motivation isn't mentioned, it's time to ask questions. In fact, the more questions you ask, the better you will understand the motive and ideal timeline to get the property sold.
Questions to Determine Seller Motivation
"Why are you selling?" This is of course the most obvious first question to ask but it's one that will get the conversation going.
"Why are you moving?" If the seller needs a larger house for their children or are planning on expanding their family, you'll be able to keep an eye out for larger properties in great family-friendly neighborhoods.
"Do you have a timeline you would like to be into your new property by (or if not moving, when they want it sold by)?" In the example of the family looking for a larger house for their family, they may be needing to sell and move into their new property by the beginning of the new school year or in time for summer vacation.
"What year did you purchase this house and what did you buy it for?" Also, "how much have you invested in improvements etc.?" This can help you understand the profit the seller is hoping to make and how much they have invested.
Red Flags That Motivation is Low
If motivation is low, there are certain consistent red flags you will start to notice across the board. The better you get at recognizing these, the better you will be able to handle the client effectively and efficiently.
"I'm not really sure I've thought a lot about selling…what can you bring me?"
This classic sign of low motivation is one of the easier ones to spot. The seller isn't sure they actually want to find a buyer, they want to see if anything you bring their way appeals to them. Chances are, going on the market is more of an experiment for them than a hard and fast decision.
"My finances are none of your business!"
A closed off seller is someone who isn't motivated. While asking those delicate questions requires tact and a great bedside manner, understanding whether or not the seller is still paying a mortgage, is experiencing financial trouble, or other money-related issues, is paramount for meeting expectations.
"I'm not selling for anything close to local comps!" 
Beware, if your seller thinks all comps in the area are extremely low, you are dealing with someone who would rather sit on an overpriced home than actually make a sale.
"All the work I have put into this place makes it worth so much more than you are suggesting."
It's normal for the seller to have pride in their home, especially if they have put tons of work into it, but if they are going to give you a 10 minute dissertation on each and every upgrade, they have personal ties to the home that won't be severed with any offers you bring in, no matter how great.
If Motivation is Low…
So once you see these red flags, how do you handle the situation gracefully? Simply put, motivation isn't contagious. Even if you are motivated to sell the property, it won't do you any good if the seller isn't. Once you've established that motivation is low, it's probably in your best interest to move on and find another, more motivated, seller to represent.
If Motivation is High…
Once you've determined that the seller is highly motivated, you can breathe a small sigh of relief. Representing a motivated seller is more favorable than representing one who is just interested in hearing offers but not sure they want to act on them.
A few things to keep in mind is that a motivated seller is chomping at the bit and as a result, keeping the lines of communication open is imperative. Let them know your plans for selling and getting offers quickly. Unlike the unmotivated seller, this client is driven. It may be health, marriage, financial or an array of other things pressuring the sale, but typically there is an emotional core to their motivation. As such, remember that with higher motivation comes more pressure and often emotional highs and lows. Once again, having the ability to balance professionalism with proper bedside manner is essential.
The biggest takeaway is this – ask questions. Like a lot of questions! The better you understand seller motivation, the more time you will save in the long run. Do your investigating in the beginning and you will hit fewer speed bumps along the way.