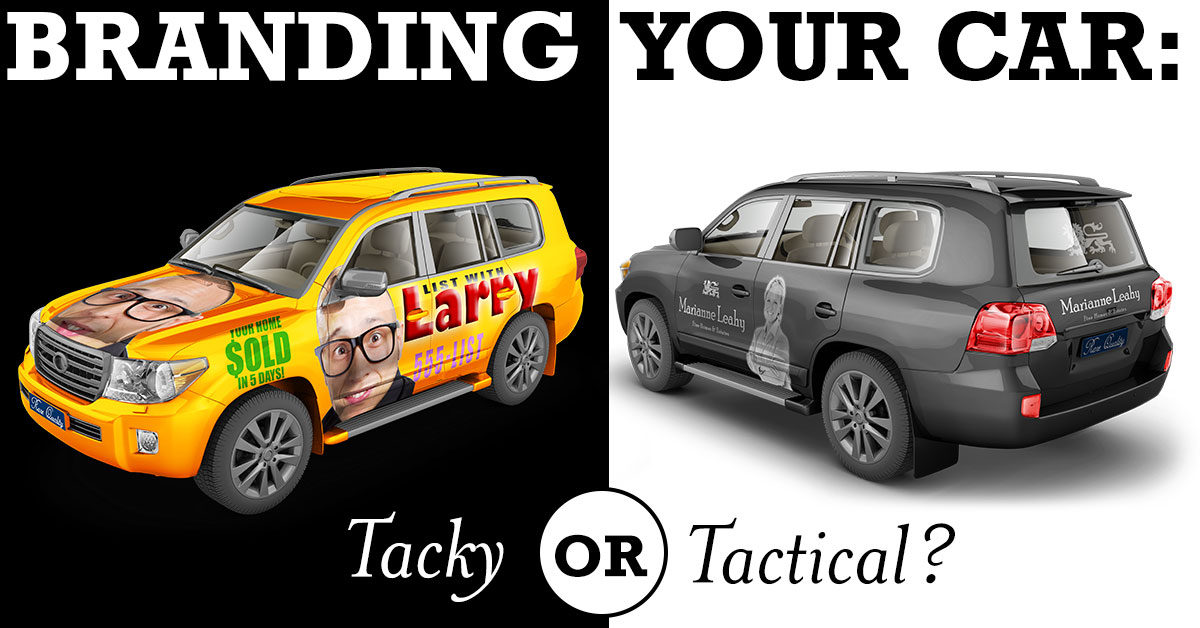 Vehicle Wrap Branding for Real Estate: Tacky or Tactical?
---
Love it or hate it; real estate companies are using vehicle wrap branding as a marketing tool. Could turning your rides into mobile marketing machines be a high ROI move that you've already waited too long to make? Or is it a cheesy self-sabotaging pun best left in the dust?
6 types of vehicle branding for brokers
Options for luxury real estate branding on your vehicle run are wide-ranging, and could include anything from a couple of car magnets for under $100 to several thousands of dollars on a full vehicle wrap. Depending on your budget and brand these options may include…
Removable magnets
Window clings
Portable interior and exterior brand objects
Partial wraps and decals
Full car wraps
In ride advertising
The pros of vehicle branding in real estate
If you remember ever seeing an advertisement on a vehicle then it works! In fact, there are many potential benefits for this form of real estate advertising.
Visibility
Brand recognition and market dominance
Active lead generation
Positioning
Driving attention to specific events
Maximizing the ROI on other marketing efforts
Recruiting
Automobiles and real estate branding have long been engaged to each other. Data from the National Association of Realtors shows that agents spend more on their cars than anything else; including their websites and other marketing. With this in mind it only seems to make financial sense for agents and their offices to take this massive expenditure one small step further with branded vehicles. And it is generally cheaper than billboards, blind mass mailings, or TV commercials.
Executed well, vehicle branding will position agents as the go-to professionals in their markets. They can definitely keep the brand at top of mind and boost results at open houses, retail and office locations, and may be used to drive in real leads at events, in traffic, and even when not in use.
The cons of vehicle branding in real estate
For every pro in the world there is a con. So what might be the detractors of vehicle branding for luxury real estate agents and brokerages?
Client comfort and privacy concerns
Cheapening a luxury brand
High costs
Issues when changing firms or branding
Liability and negative driver interactions with the public
However, one of the biggest and most overlooked pitfalls of vehicle signage is the drivers. If you cut off a potential client in a car with your branding, that person might add you to their blacklist of companies. The potential for lawsuits shouldn't be ignored either. It's critical to be careful while driving a branded vehicle.

Determining the potential profit on branded vehicles
On the surface pinpointing the exact return on vehicle advertising can appear elusive. Harvard Business Review reminds us that a sale is normally the product of multiple touches. Maybe a client saw your Super Bowl ad last year, received your postcard in the mail for the last 3 quarters, and then while searching Google for "luxury homes in LA" saw your website and subconsciously recalled your branded vehicle that passed them on the way home from work, and it triggers them to choose you.
Fortunately, vehicle ad results don't have to be that vague. Auto Wrap Signs proclaims "Vehicle Wraps have the Highest ROI of other Forms of Advertising." How is that justified?
According to the Outdoor Advertising Association of America:
One vehicle wrap can generate 30 to70 thousand impressions every day
30 percent of viewers say they would buy based on a mobile outdoor ad
Fleet vehicle advertising increases name recognition 15 times more than any other type of advertising
Most importantly these ads have a lower cost per impression than any other form of outdoor advertising, and just a fraction of the CPM cost of TV, radio, newspaper, magazine, and billboard ads, at just $0.77 per thousand. According to Metro Sign and Awning that can get as low as $0.35 per thousand, who adds that wrapped vehicles can accumulate "600 to 1,000 impressions for each mile they travel."
Top tips for power branding that generates results
Doe correctly car wrapping can be highly profitable. Check these factors to ensure maximum results…
Put time into strategizing your design
Ensure overall brand message synergy
Use strong calls to action
Incorporate effective tracking tools
Consider interactive ad design
Investigate potential sponsors to offset costs
Maximize vehicle ads with related blogs and PR
Going even further marketers may use GPS tracking to dive into prospect demographics, as well as using data from Mark Cuban's Motionloft and local DOT websites for ensuring branded vehicles are always receiving the maximum amount of exposure.
Conclusion
Done well vehicle advertising can deliver a superior ROI to many other options. Results may be compounded further in coordination with in-car social media marketing, radio, and both outdoor and online real estate advertising. Classy design and careful drivers should preserve luxury brands. Yet, it may be wise to start simple, measure results, and grow as the profits pay for expansion.