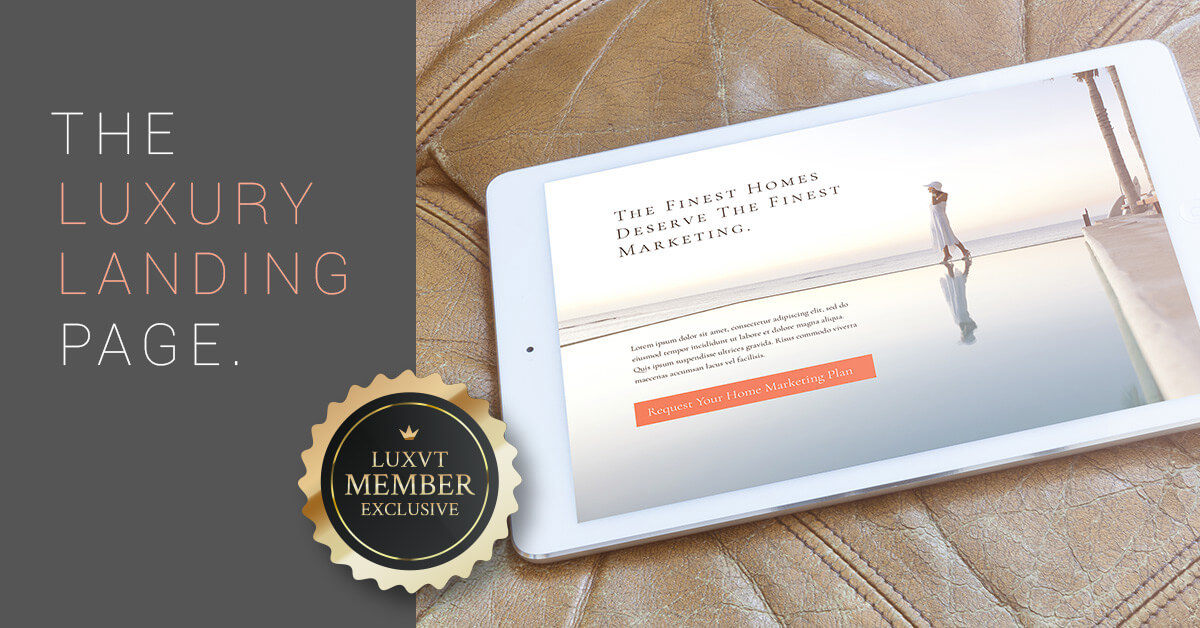 Top 5 Features of a Real Estate Luxury Landing Page
---
Every seasoned real estate agent knows that bringing in new leads depends on consistent, focused marketing- and the final stretch to seal the deal is having a slick, polished landing page that makes a prospect want to connect. Making a good impression matters- and that's why we've created a gorgeous, professional landing page for all of our agents to use. Here's a breakdown of the top 5 features of a real estate luxury landing page:
Customization to your Brand
Every agent is unique and has a different style- which is why a one size fits all approach to landing pages doesn't usually work. And because we understand the value of consistent branding, we've developed a landing page that caters to all styles. What vibe do you want to give off? Modern, classic, edgy, or cool and neutral? We're able to customize our landing pages to various font and color themes. If you have something specific in mind- for example, your brand is built around a particularly eye-catching shade of lime green- then it's imperative to keep it consistent across the board.
Built-in Digital Presentations
Do you have a sweet marketing presentation that you want to show off to your clients? Well now you can do it right now your landing page- with an awesome new feature- ISSUU integration. ISSUU is a digital publishing tool that allows you to publish PDF's- such as a marketing presentation- in an easy to navigate digital format. ISSUU publications function as an impressive sophisticated digital flipbook presentation on your page, and show your clients you are the type of agent who will utilize all the cutting edge digital tools available today to help them sell their. As part of our LUXVT marketing presentation kit, we can build this right into your landing page.
Featured Properties
So you've had some success selling some really killer properties at an amazing price point. Or you have some gorgeous properties for sale right now that you want to show off. Enter the featured property section- a customizable section on your luxury landing page that allows you to showcase the properties you want. These are an amazing feature of a luxury landing page because it shows sellers the regions and price points you've sold properties at- and validates that you are the right agent for them. It also celebrates your past successes and shows your are confident in being able to get the job done.
Testimonials
You probably already know the value of a good testimonial. Not only do they build trust- but they act akin to word of mouth references- people can vouch for your reputation. That's why we've included a section for you to easily add testimonials from past and current clients to your landing page. Prospects coming to your page will see that you've done good work for other clients, and will be encouraged to become a client themselves.
Mobile Optimized
Over 52% of internet users are on mobile – which is why it's so important for a landing page to be optimized for responsiveness across devices. Having a mobile-friendly landing page means a website not only looks good, but also loads quickly and functions well. It also ensures that a prospect can reach out to you with ease- be it via by phone, email, or a submission form. Curious what a site like this looks like? Check out our real estate luxury landing page example below:
Interested in getting a luxury landing page made? We've got you covered. Contact our sales reps about becoming a essentials or pro subscription member today, or fill out the form below!