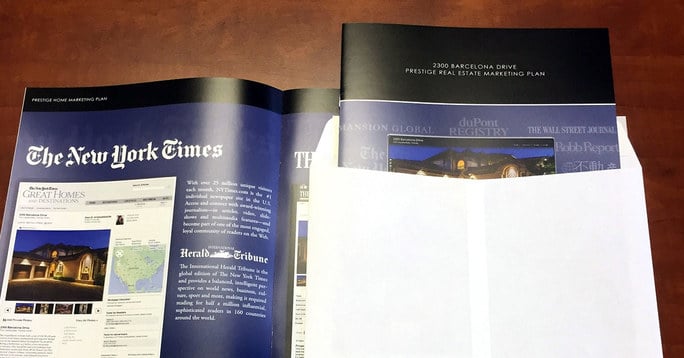 The Ultimate Listing Marketing Presentation Direct Mailer Checklist
---
Using direct mailers as part of your expiring listing strategy is a great way to get your potential sellers to contact you. But if you're sending a mailer, you can't let yours blend in with the daily junk mail that fills a person's mailbox. Your mailer needs to stand out!
Smartly packaged mailers of your marketing presentation targeted to your ideal audience pique their interest and make them want to see what's inside. Coupled with a personalized letter, direct mailing these elegant presentations has the possibility of significantly increasing the number of clients who trust you to sell their listings.
But how do you put together a mailer that your audience can't wait to open?
It's simpler than it seems.
If you really want your direct mailers to stand out, follow along with our direct mailer checklist.
The Ultimate Listing Marketing Presentation Direct Mailer Checklist
1. An Intriguing Envelope
Bigger envelopes, abnormal-shaped envelopes (think square instead of rectangle), or envelopes with distinctive colors or textures draw more attention than your standard letter envelope.
Also, when your potential seller collects their mail, they'll typically put the bigger envelopes at the bottom. This means they're more likely to pay attention to what you sent over the rest of their mail.
2. Handwritten Address or Mailing Label
You'll increase your open rates with a handwritten mailing address because people will open mail that they think is from a person rather than a company. It also makes them feel special for receiving mail made specifically for them.
But if you can't handwrite your return address, a handwritten font will work. Choose a script font like Mightype or Halo Handletter; just stay away from standard fonts like Arial.
3. Simple Return Address
The left-hand corner of an envelope is a hotspot for a person's eyes. That's because they want to see who the letter is from.
By keeping your return address simple, you create an air of intrigue for the mail and increase the chances it gets opened. If you include too much information, the receiver might flag the mail as junk since they don't know the sender and trash it before ever opening it.
4. Unique Stamp
The stamp is another hotspot for a person's eyes. If you take the time to use a stamp outside the ordinary American flag forever stamp (like you can purchase at USPS.com), whoever receives the letter will instantly know the contents are worth more than the 70 or so cents it took to send it.
5. Personalized, Signed Letter
Though you may be mass printing these mailers and sending them to listings, you want to make sure that you add a personal touch somewhere.
Include a personalized letter with the rest of the presentation. It doesn't have to be long, but writing one will show you've taken time and care to put together your mailer.
6. Business Card
You want to give all your contact information in your mailer so your potential sellers can contact you in a way that's most comfortable to them.
Make sure your business card includes your name, phone number, email address, and website. By including your website, they'll be able to check out the other listings you're taking care of.
7. Printed Catalog
The printed catalog will set your mailer above all other mailers sent to your contact. It'll clearly show why you're more valuable than other agents and give you an edge over the competition.
Now that you know what to include in your direct mailer, it's time to start sending it out. Print out this direct mailer checklist and use it each time you send out a mailer to ensure your potential seller sees why you're a cut above other agents.
For more tips on how to use your LUXVT Marketing Presentation to sign more leads, download our brand-new eBook, 7 Ways to Sign More Listings With Your LUXVT Marketing Presentation. Inside you'll find a letter template to send to expiring listings, 12 talking points to bring up in your listing presentation, DIY software tools for embedding your marketing presentation onto your website, and this direct mailer checklist.