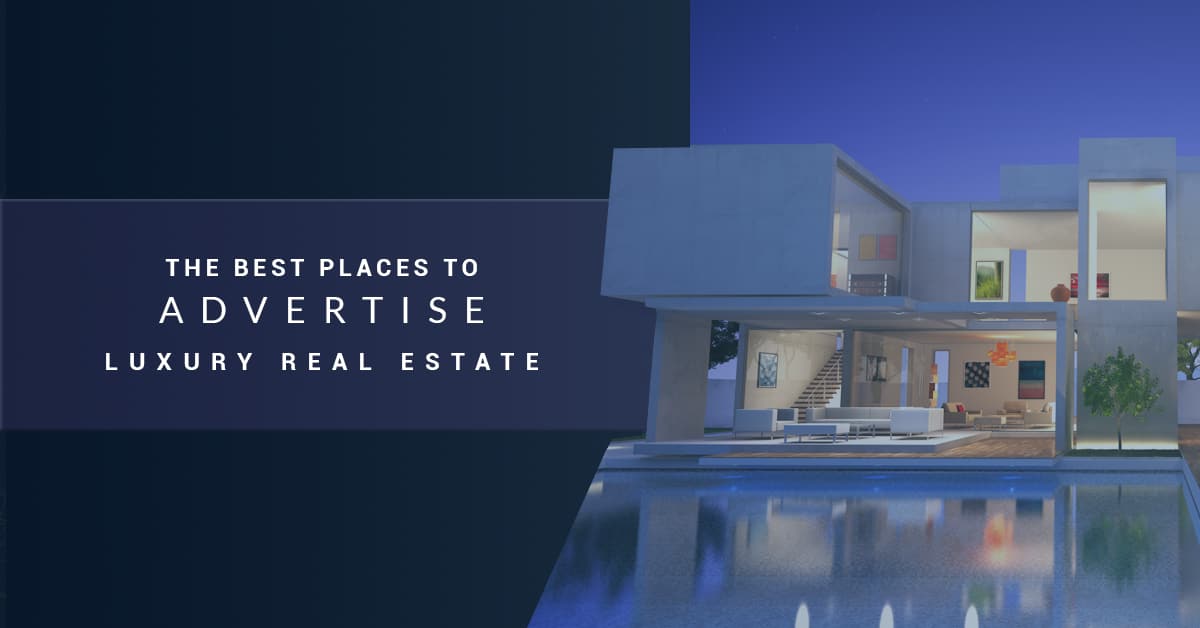 Designed to Sell: The Best Places to Advertise Luxury Homes
---
Selling high-end real estate requires market research, creativity and a knack for knowing where to list. Advertise luxury properties is a different game than generic real estate, and choosing unconventional methods to market luxury homes will help listings spend less days on the market. Extraordinary homes require creative strategies to appeal to a narrower pool of buyers. 
Beyond the specialized décor and lavish amenities, brokers and agents should explore a range of resources and strategies to find the best places to advertise. While there are many platforms and digital services to take advantage of, we're breaking down some of the best tactics to get your luxury listing in front of the right buyers.
List Internationally to Investors
Ever considered investing in real estate abroad? Turns out, you're not alone. Listing internationally can bring many benefits that investors won't find domestically. For example, in the Turks and Caicos Islands, there are no annual property taxes and no capital gains taxes on transferred property. Property ownership is also protected by a land registry. By listing internationally, you can reach investors in China, Russia, Germany and more.
Look for online listing platforms that can cater to local investors, especially sites that fully translate to local languages in a particular market. Show your sellers the marketing capabilities of listing internationally, and in turn, build a better relationship with your seller. One widely recognized platform to explore is Juwai.com, China's #1 Real Estate investor site. This is one great example, but there are many others.
Make sure the market will support your decision. Look at the cost of living, median household incomes, and the area's economic outlook. For rentals, consider year-round and peak-season traffic. Luxury real estate investors who invest internationally have a range of offerings available to them, from buying a luxury condo or a high-end vacation property, to building from scratch. Consider this when putting together your listing.
Elite Exposure through Recognized Publications
Marketing a luxury home means spending time and money in the right ways. There are many steps that can set sellers up to list a property in the best places. First, hire professional photographers to take photos of the home and take the time to write a persuasive description. You can even create a luxury website for the home to set a seller's home apart from all the other high-end listings. With the right setup and resources in place, you can pitch to recognized publications or advertise in them.
Having the right story and visuals creates a brand for your property, an identity that's unique. This will help a home stand out and attract buyers, especially in publications that may have other listings as well. Photography and videography tell a story of the home to appeal to elite publications, including:
Remember to consider the buyer you're trying to reach and the demographics of the publication's readership. Take the time to research options for a seller, and this will help guide your future listing efforts after you complete this sell.
Local Print Distribution
While everyone's online in this increasingly fast paced world, don't underestimate the power of local print distribution. From direct mail and brochures to distinctive signage, all of these tactics can help you close the deal. Luxury homes must be marketed in a way that makes them appear unique and desirable to buyers. The key is showcasing the feeling of luxury in a home that becomes the reality and expectation of a potential home buyer.
Print advertising can enable you to highlight the key benefits and features of your properties. Market photography from your high end real estate listings and interest new buyers with brochures and flyers. With an effective real estate advertising campaign, you will attract new clients and gain an edge over your competition. Using a 360-degree approach to your marketing will not only help you sell the property but it will help you constantly develop new leads.
Social Ads
Digital marketing is quickly becoming the driving force of advertising luxury listings, and with good reason. Not only can you target ads by geographic area, but also by lifestyle. Geo-targeting, or local PPC, simply means delivering different content or advertisements to buyers based on their geographic locations. In paid search campaigns, geo-targeting is used to advertise to local prospects. Remember to make sure your landing page is polished and offers a value proposition that motivates buyers to get in touch.
More broadly, social advertising allows you to create and market clickable ads to reach target audiences. You can reach them through social media platforms, messaging apps, news feeds, as well as outside apps and websites. Social advertising is particularly effective at driving engagement and conversions.
Invest in Elite Marketing Services & Membership
To attract the right buyer, it's worth investing in specialized marketing services and membership. Find out not only the best places to list, but also how to make the buyer understand what makes the home worth the money. In turn, you'll be able to negotiate effectively when listing some of the most luxurious and elite homes available.
At LUXVT, we provide marketing technology for thousands of upscale and luxury real estate professionals, offices and franchises throughout North America. Impressing luxury sellers can be a challenge, but with our high-quality materials and marketing plans in hand, our agents are equipped to advertise and sell to the right buyers.
Our LUXVT PRO membership edition designed for agents committed to world-class marketing. Enjoy the benefits of global exposure, prestige advertising, and strategic brand marketing with effortless deployment and low-risk pay-at-close pricing.