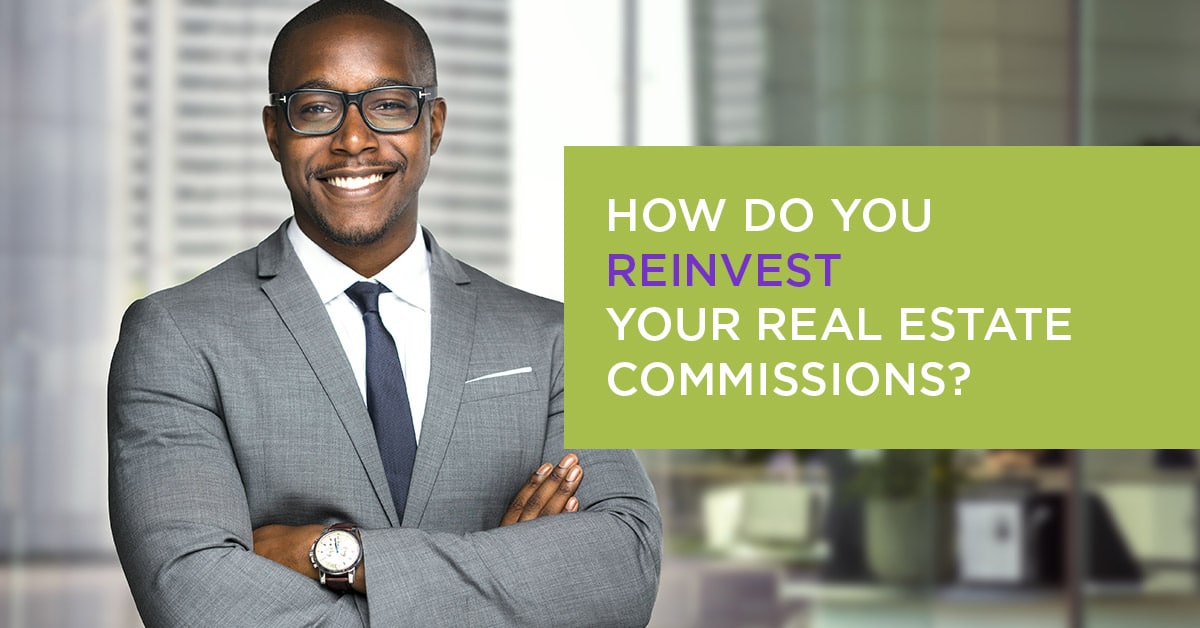 How Do You Reinvest Your Real Estate Commissions?
---
So, you've closed a big listing and collected that hard-earned commission check. But after you've caught up on your essential expenses, what's the smartest way to put that money to work generating more future listings and more top-dollar commissions?
Intelligent and well-planned reinvestment in your luxury real estate practice can produce rewards well into your future, through increased brand awareness, a stronger marketing message and more streamlined operations.
The Case for Reinvestment
Warren Buffett, considered to be the most successful investor of all time, puts reinvestment high on his list of advice to businesses, whether they're massive corporations or start-ups.
Here's a quote from Buffett on the topic:
"The ideal business is one that generates very high returns on capital and can invest that capital back into the business at equally high rates. Imagine a $100 million business that earns 20% in one year, reinvests the $20 million profit, and in the next year earns 20% of $120 million."
So, the case for reinvestment is that if you put the money you made back into your business, you'll keep growing the amount of money your business makes. This is also true in luxury real estate; by taking the money you make from selling a home and reinvesting in tools to better carry out your marketing strategy, you'll start selling more homes, and, therefore, make more money.
Make a world-class impression at your next listing presentation. Download a LUXVT marketing presentation demo now.
4 Ways to Reinvest in Your Luxury Real Estate Practice
1. Invest in Your Brand
Building your brand consists of two cores: creating an identity, and spreading awareness. You'll want to focus on creating an identity for your brand first since clear messaging as to who you are and what separates you from your competitors is what's going to attract clients to signing with you over other agents.
Brand Identity
With regards to identity, you'll want to create a captivating, recognizable logo. For real estate branding, we suggest a sleek, minimal design that is easily printable on signs, business cards, and other marketing materials.
You'll also need an updated professional photo of yourself. With your luxury real estate practice, you're selling your image and personality as much as you're selling what you can do. A polished professional photo communicates to potential clients that you'll take selling their listings seriously.
After you have a sophisticated logo and a professional photo, it's time to invest in brand assets. These include business cards, post cards, and most importantly, signage.
Your signage needs to differentiate your luxury real estate practice from other agents in your market. For maximum exposure, invest in getting yard signs made first. This way, you'll be able to display your brand to hundreds of people walking or driving by the properties you have listed.
You'll also want to create a sign for your brick and mortar location, especially if your office is in a prominent location within your market. Something as simple as installing this sign will make people feel familiar with you and, since they feel like they know you, increase their likelihood of responding to you if you send them a cold letter or email.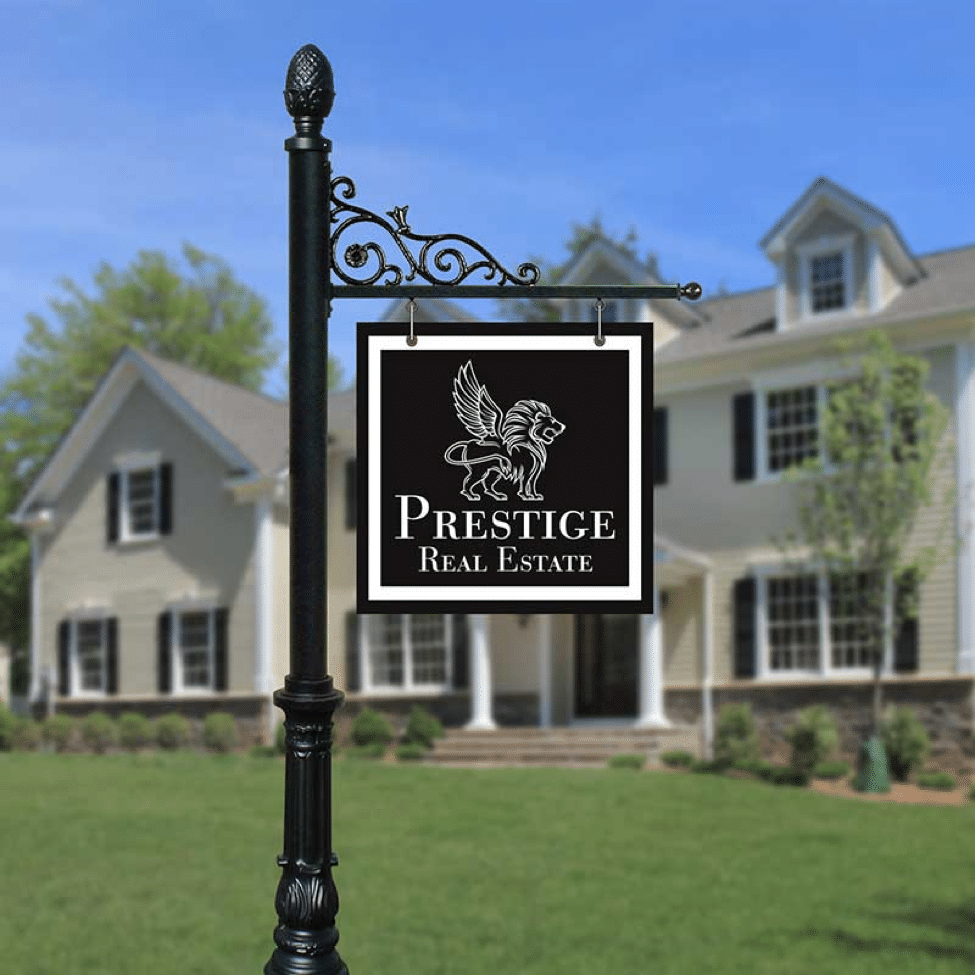 Awareness & Exposure
After you've invested in your identity and messaging, it's time to get your name out there! Getting exposure, after all, is how new clients are going to find you.
Here are a few of the most cost-effective ways to increase your brand's exposure in your market:
Outdoor Advertising
Billboards, signage, vehicle wraps, etc. Guarantee that your luxury real estate practice is getting eyes on it. When determining where to place your outdoor ads, make sure it's in a location frequented by your target audiences. For example, for luxury real estate, you wouldn't want to place ads near student housing—you would want your ads to be near popular shops and restaurants.
Mailer Drip
Send out your branded items, such as pieces of your marketing presentation or seasonal postcards in pieces over time. The reason is to keep your brand on the top of your audience's mind. By having a piece of mail from your brand arrive in their mailbox once or twice a month, they'll see your logo, read your messaging, and be reminded of the value you offer as an agent.
Paid Search/Paid Social
When running paid search campaigns, you only pay when someone clicks your ad. This works to your advantage in two ways: you can tailor your campaigns to get the most conversions as possible, or you can use it purely for brand exposure. That way, people are seeing your name when they search for real estate listings, but aren't necessarily ready to schedule a listing appointment.
Social ads work the same way: you only pay when someone clicks. Creating social ad campaigns allows you to target your specific audiences and have a targeted social post shown to them. These ads help with exposure since your audiences will see your brand's logo and messaging.
A Tip From the Experts: Avoid the "One-Off" Pitfall
When deciding on a new marketing tactic, budget for a campaign that takes place over 3–6 months. One-off marketing "experiments" tend to waste more money than they're worth. By creating smaller parts of your campaign, you're ensuring your campaign gives you repeat exposure rather than one huge marketing event. And repeat exposure is more valuable and effective.
2. A Killer Marketing Presentation
After investing in paid search and setting up listing appointments with your most qualified leads, you're going to have to impress them. After all, they're counting on you to close a sale on their luxury property, and only a high-performing marketing strategy will do.
But your marketing presentation needs to be more than a generic PowerPoint. You need a document that's as sophisticated as the property your potential seller is listing. And it also needs to be a versatile document—one you can post online, offer as a download, and print to use as a leave behind.
The most important message your marketing presentation gives is your value proposition. In it, your potential clients can clearly see what sets you apart from other agents.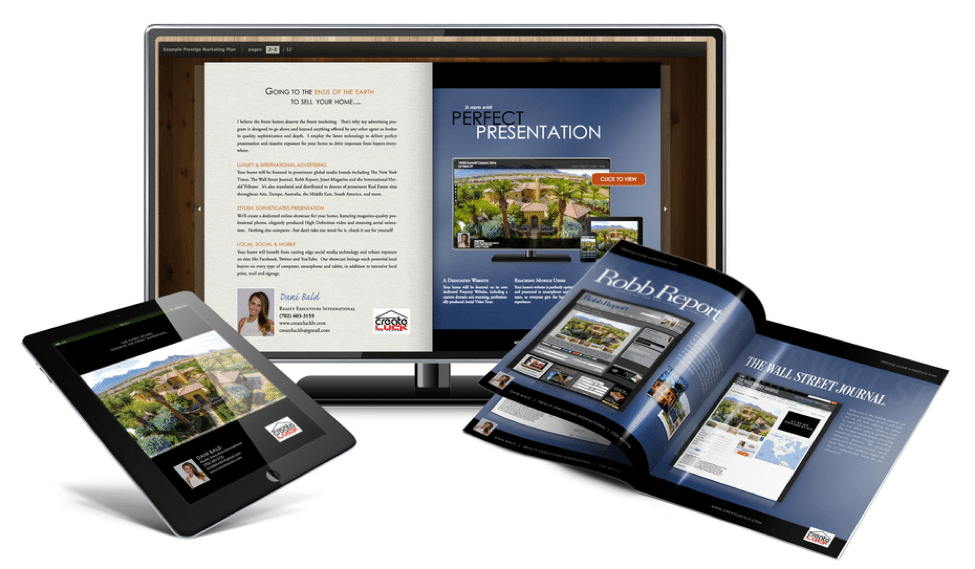 3. Knowledge Is Power
In real estate, different ways to find listings and sell properties appear all the time. Currently, agents are realizing the power of advertising their listings using social ads on Facebook.
The only way you're going to stay on top of the latest trends is by investing time and capital into learning them. For example, with the rise of virtual reality, agents are learning how to leverage this technology to close more sales on homes through virtual tours. Since this is a relatively new technology, you'll need to invest in a coach or class to learn how to use virtual reality specifically for virtual tours.
You can also increase your value as an agent by investing in certifications. These certifications prove to sellers that you have the knowledge to assist them with their specialized needs. Take green housing as an example. If you want to break into the sustainable housing market, having a National Association of Realtors Green Designation shows potential clients your luxury real estate practice is an expert in selling homes built with all the latest eco-friendly features.
Staying on top of the latest trends, and having the paperwork to prove it, increases your value as an agent.
4. Streamlined Operations
Keeping track of all your leads can be a full-time job in its own right. After all, if you lose track of a lead that's recently grown warm, you could be leaving thousands of dollars in commissions on the table for other agents to take.
Thankfully, technology is on your side when it comes to lead tracking. You can invest in a customer relationship manager that makes it easy for you to track interactions with a lead. These can be either manual or automated, depending on your need.
There are also marketing automation options for real estate agents. With marketing automation, if one of your leads has shown signs of turning warm—such as reading a few posts on your agent blog and browsing your marketing presentation—you can use a marketing automation platform to recognize these triggers and send out an email requesting the contact to schedule a phone call. That way, you never miss a warm lead again.
Of course, you can always invest in a helping hand, like an associate or an assistant. They can help you in smaller matters, like transferring your phone calls or setting up your marketing automation, so you can do what you do best: signing listings and closing properties.