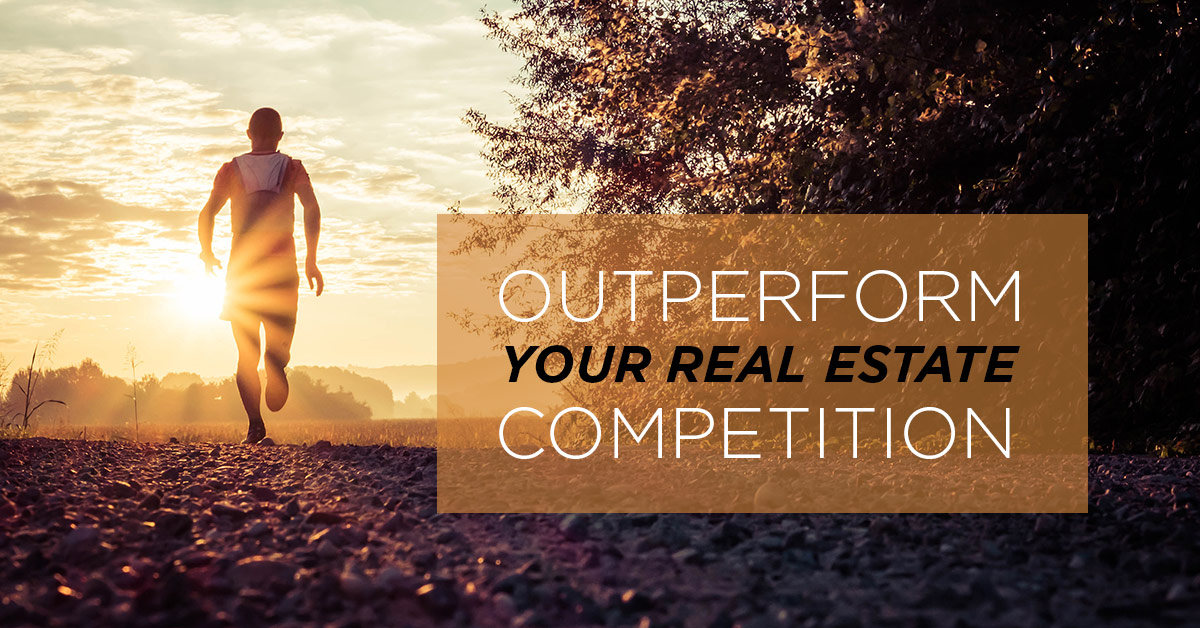 6 Ways to Outperform the Competition
---
In the world of real estate, there's no skating through the daily 9 to 5. Nine to 5, you say, what's that all about? Agent hours are unlike many other professions and that paycheck isn't a predictable guaranteed monthly amount, but isn't that half the reason we do it? The adrenaline, the uncertainty, the excitement?
Life as an agent is unconventional, to say the least, and having a great reputation is as good as gold in the industry. Bypassing your obligations is not only a surefire way to impress your current clients, but word spreads fast and referrals are the best 'thank you' that you can receive at the closing of a deal.
Ready to step up your game in the new year? Check out our 6 tips for outperforming the competition.
1. Step up your lead gen game
No one could stay in business long without new leads and you certainly don't want to wait until you need them to start searching. Chances are, the top performing agents in your area are the ones who are staying on top of their led gen game.
Lead generation can take a variety of forms and it's best that you utilize several in order to cast a wider net. Some of the most beneficial lead generation methods for agents include the following (but trust us, there are many others so feel free to be creative!):
Offering eBooks and other downloadable materials (in exchange for client's contact info on your site)
Direct marketing (door hangers, postcards etc.)
Use LinkedIn to scope out potential clients
Cold call (It's not that scary, we promise)
Implement SEO (search engine optimization) techniques so you'll be found more easily in search engines (like Google)
Reconnect with past clients
2. Utilize your personality strengths
We all inherently have our own strengths or talents that are within our comfort zone, mainly because we are good at them. While you do want to challenge yourself to learn new skills, play to the strengths of your personality as well. If you're outgoing and love meeting new people, for example, you are likely to be great at networking, cold calling and meeting new people.
If you're an introvert, however, don't despair. Studies have found only a small margin of difference in the success of extroverts and introverts in sales. Believe it or not, some extremely extroverted salespeople and agents tend to scare away clients by being too outgoing or "salsey."
Not sure what personality type you are? Take this quiz and find out.
3. Stick to a plan
While adaptability is a key element of being an agent, it doesn't mean that you should neglect formulating a game plan. Knowing where you are and where you want to be can help you develop goals and a road map for achieving them. Sure, you are up against competition but the main contest is really with yourself. Don't be afraid to vary time and again but having a master plan to follow will take you further. Trust us.
4. Be tech-savvy
Gone are the days when real estate sales happened solely offline. Sure, offers are still often discussed over the phone or in person with a handshake, but with all the social websites out there, you simply have got to be tech-savvy whether you like it or not.
You don't have to take our word for it. According to research, high-earning agents invest more in technology than their lower grossing peers. Being tech-savvy can help you earn more than your competitors and who wouldn't want that?
5. Persistence is key
Walking the line between persistence and pestering can be a tough one for many agents but the old adage "the squeaky wheel gets the grease," wasn't coined for no reason. One way to outperform your competition is to follow-up multiple times. In today's world many people are busy and with technology allowing so many touch points, you can ping clients, or potential clients, in a variety of ways.
Being persistent, especially with new leads, can save you time and effort in the long run. When you bring in a new lead, you will want to qualify them as soon as possible. Are they a casual looker or are they ready to bring on an agent? All this can be discovered pretty quickly through proper follow-up.
If you are dealing with a potential client who is saying "no," accept it but don't totally move on yet. Too many times we walk away when really the client is more interested to continue a conversation when we accept no as the answer but still stay in contact.
6. Increase your follow-up speed
If you are hesitating even momentarily to answer leads you may be losing out to your competitors. In today's digital age, communication can take a variety of forms. Didn't receive a voicemail until late in the evening? Follow-up with an email right away. Sure, it might not be read until the next morning but it shows you are on the ball and ready to do business.
Ready to rock the competition in 2017? This is your year! Try out these tips and let us know how it goes. Did we leave any out? Comment and let us know how you outperform the competition!