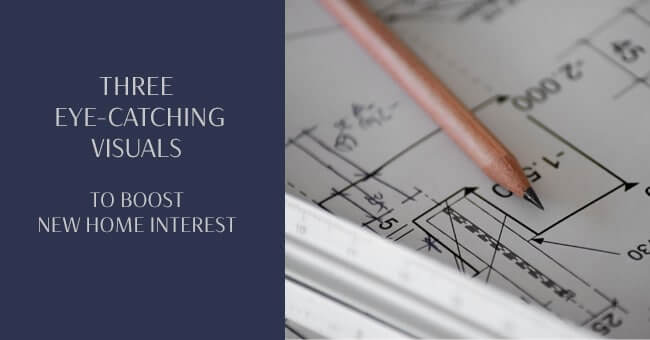 The New Home Marketing Visuals that are Guaranteed to Impress
---
Creating intrigue and excitement around your new home construction may seem like a daunting task. But rest assured, we have a few new home marketing visuals tricks up our sleeve that will make marketing your new development a breeze.
Looking for a simple way to create some buzz around your new construction? These 3 ideas are guaranteed to have ideal leads lining up to purchase your new homes.
1. Incorporate realistic renderings
One of the hardest parts of selling homes that don't actually exist yet is helping potential buyers envision what they will look like. That's why having lifelike renderings of your new homes is vital to future sales. These days, renderings have gotten so realistic that it can be hard to tell one from a staged photo. Your clients will be able to get an idea of furniture placement, amenities, and interior design before their home is even built. 
If you use a qualified and experienced designer to create your renderings, you'll have incredibly realistic imagery that can be used on promotional materials, websites, and signage for months to come. No need to stress about having images for homes that are still in the developmental stages.
2. Toss the blueprints, invest in stylized floor plans
Okay, so you don't actually have to toss your blueprints. But don't feature them in your marketing materials! While they might make sense to you and a handful of leads who may be familiar with the industry, most potential buyers would be significantly confused looking at a blueprint. A plain piece of paper full of grids and rectangles doesn't help a buyer picture what their life in their new home will look like. Instead, opt for more lifelike floor plans. 
These look similar to renderings, but from a bird's eye view. Designers can take your floor plan up a notch by adding walls, windows, furniture, natural lighting, plants, and other decor to make your homes seem tangible. Creating hyper-realistic floor plans can give your clients a fresh perspective, and get them even more excited for what's in store. Just like renderings, floor plans are great to include in brochures, mailers, and websites, or any promotional material. If you're looking for an expert rendering and floor plan designer, look no further! We have experienced graphic designers on our team who can create your visuals in a flash.
3. Put things in motion with video ads
We all know that typical display ads using photos are a decent way to generate leads. But why not go the extra mile with a video ad instead? According to marketing research, Facebook video ads generate 20-30% more click-throughs as opposed to photos. Why? Because we're all more likely to stop our cursors from scrolling if our eye catches some movement. Don't worry, making a video advertisement won't require a screenwriter, director, and cast of commercial actors. Creating a video ad can be as simple as putting together a slideshow of the most striking renderings and floor plans of your new construction. 
When creating a Facebook video ad campaign, it's important that you don't underestimate your budget. You don't need to dump a ton of money into the project, but in order for your ads to reach a wide range of your target audience, you will need to plan strategically. The more money you invest into the campaign initially, the better your campaign will do over time. If the idea of running Facebook ads already seems like you're in over your head, reach out to us! We've created thousands of successful ad campaigns for our clients, and we'd be happy to do the same for you.
Interested in creating dynamic visuals but unsure of where to start? Reach out to our experts at LUXVT today! At LUXVT, we are experts in creating new home marketing campaigns that really work. Schedule a call with one of our agents.