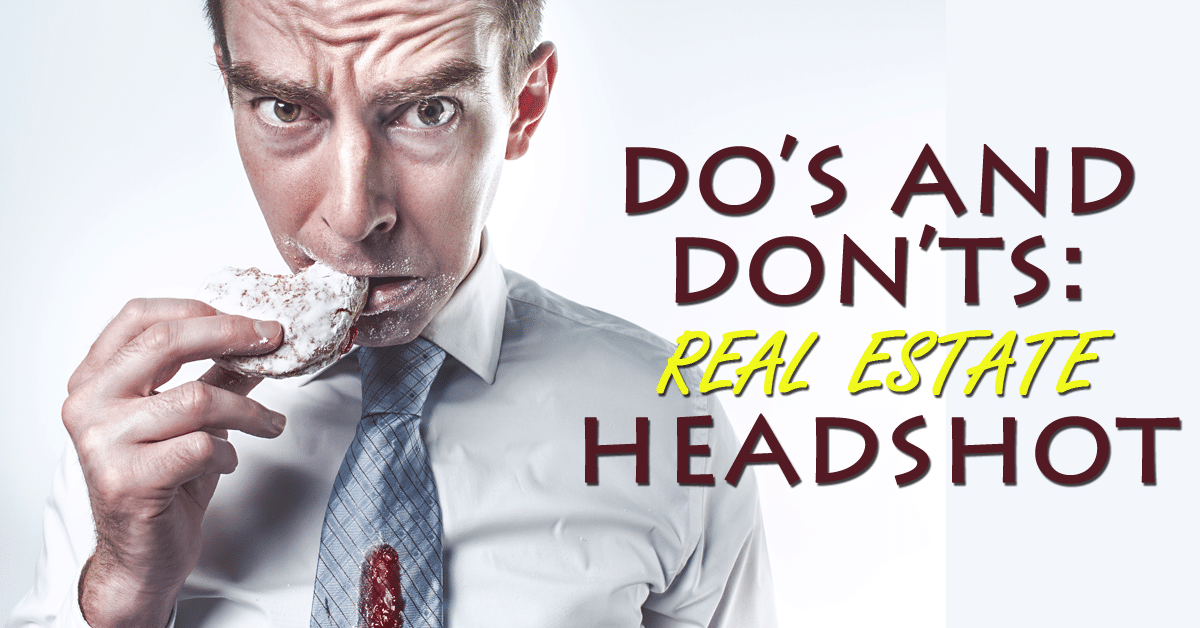 Real Estate Headshot Tips: The Do's And Don'ts
---
Your listing is not the only thing that needs presentable photos for marketing–you do too! If you're not used to getting professional headshots done, this list of real estate headshot tips will point you in the right direction.
DO
Smile!
Clients want to see an image of someone that looks approachable and friendly. Selling or buying a home is a huge step that clients might be really nervous about. If they see a much too serious headshot of you, they might be scared off.
Wear professional clothing
That means button downs, suit jackets and slacks. It's best to try to wear darker solid colors and clothing with little to no designs on it as it's distracting.
Hire a professional photographer
Or at least find someone that knows photography basics. You don't want your headshot to be too dark or washed out or super blurry. If you can get a professional, they'll know how to direct you and get your good side!
"There's no place for selfies in agent headshots," says Patrick Parker of Patrick Parker Realty. "Pay a few bucks and find a photographer. While a studio portrait photographer will probably take an acceptable picture, see if you can find a photographer who will go out on location."
Get hi-res copies of your headshot
This way, you can use your images across all sorts of marketing: signs, digital listing presentations, mailers, social media and more! If you use a lo-res image, you risk having marketing materials that look all pixelated and blurry.
DON'T
Use a photo of your dog as a headshot
You may laugh but we at Upmarket Agent have seen a handful of realtors do this. Dogs are really cute but potential buyers won't take your dog photo seriously.
Use an old photo
"Rule number 1 in my book: Keep your photo somewhat current," says Lorraine Tuths of VRI HOMES. "Can't believe how many agents use a 5-10 year old photo on their marketing materials."
Be TOO trendy
Trends come and go so you'd want to stick with outfit pieces that are timeless. You can't go wrong with sticking with classic business professional pieces like button ups and slacks. Also, keep hair and make up simple and natural. Extreme trends like super dark eye shadow or multicolored hair is distracting will make clients doubt your professionalism.
Use a distracting background
A plain backdrop or wall will work super nicely because it'll help viewers focus on your face. If you only have busy backgrounds at your disposal, have your photographer focus on you while blurring the background. This is achieved with a proper aperture and focal length.