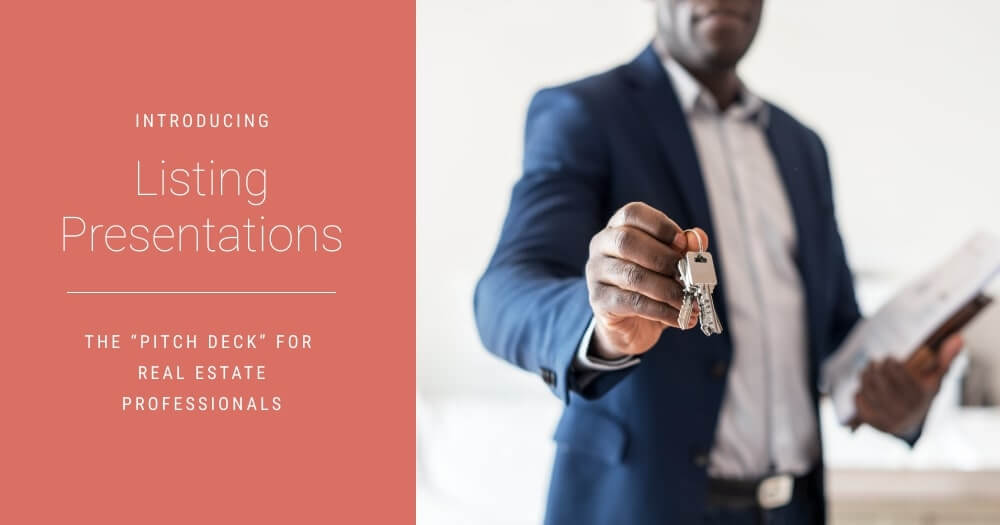 Listing Presentation for Luxury Focused Real Estate Professionals
---
Listing presentations have become the standard approach to "pitching" your offering as a real estate professional to potential clients. As a luxury real estate professional, it's essential to go above and beyond and ensure that your listing presentation is more than just standard.
Below are some frequently asked questions surrounding listing presentations for the luxury real estate sector. Whether you are a new real estate professional or seeking guidance to take your presentation to the next level, we have some resources below.
What is a listing presentation?
A listing presentation is a pitch deck for real estate professionals to sell their services. This is a free proposal that is given to a seller or buyer seeking luxury real estate services. This no obligation presentation is a great way for you to pitch your expertise, expectations, suggestions, and insights in hopes of convincing the potential client to choose you over the competition.
For more specific information on what luxury clients look for in listing presentations, be sure to read our 7 keys to a winning listing presentation.
Who is it for?
Listing presentations are created for anyone seeking outside real estate help. People who seek these services have unique needs, and your listing presentation should address those needs and the particular solutions you can offer to them.
Include examples of how you can use high-profile marketing and advertising solutions common to the luxury listings market to deliver higher ROI.
When should you present a listing presentation?
As soon as you can! More specifically, within the first couple days of receiving their information. It is important to take advantage of quick turnaround times in beginning interactions to show your commitment to your work, while balancing the appropriate amount of time to think about their listing's challenges and how you will solve them in detail.
Where should you develop it?
Most listing presentations are developed on digital platforms. Many times, people use PDFs, slides, or videos to present information.
If you are looking for a fast way to develop a luxury listing presentation custom to your own needs, we offer free and paid versions (depending on how many presentations you need a month) of the LUXVT Presentation Creator.
Why is it important to have a listing presentation?
First, listing presentations have become a standard practice among real estate professionals to present solutions to affluent clients that need real estate services. For them to make an informed decision, you should provide a proposal for them to compare to competitors. Not only do your detailed solutions help them make decisions, but the quality of the presentation can contribute to psychological trust in the beginning stages of interaction.
How much time should a listing presentation take to put together?
When designing a presentation yourself, you can easily spend hours preparing your proposal. Not only do you need to conduct research and pull together your own sales angle, but packaging that together in a nice visual is another challenge that can add up time quickly.
Since the turnaround time should be short, we suggest using a developed DIY creator that can put together pages of digital content tailored to your brand in much shorter time frames.