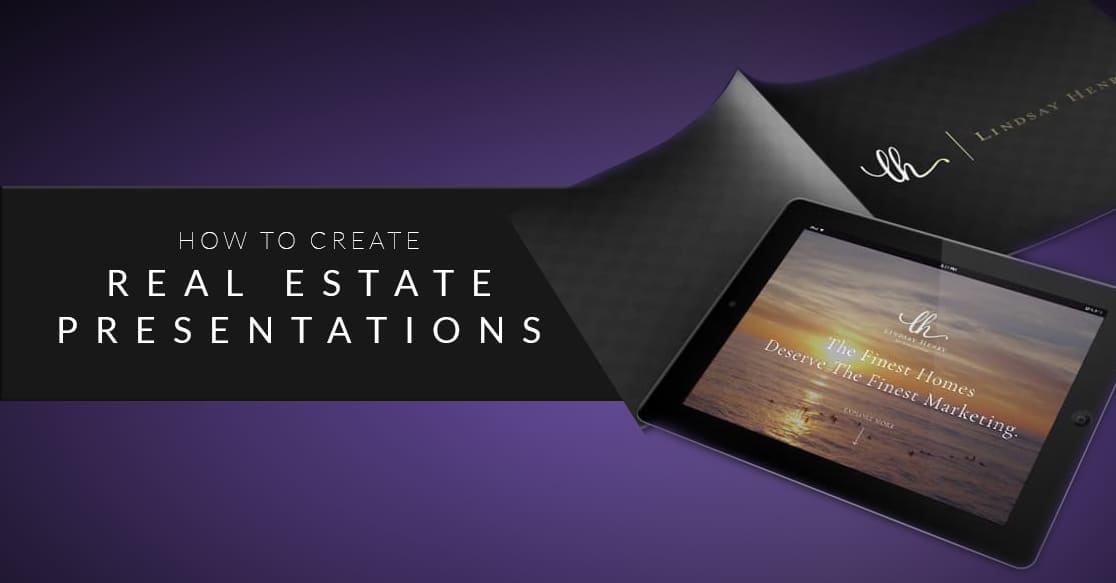 How to Create Real Estate Listing Presentations Quickly
---
The luxury market usually moves at a slower pace. Between high-value listings and looking for the right buyer, properties are often on the market for longer periods of time. But when looking for a potential buyer or to impress a seller, you should be ready to put together a real estate presentation in record time. We've put together the following step-by-step guide to creating luxury listing presentations quickly and efficiently.
Plan for Success
First and foremost, focus on the ideal client. What are their needs and desires? What problem are they trying to solve? The more you know going into the presentation, the better off you'll be. Do your research, and find out more about the listing prospect and the property, as well as an ideal client's motivations. Balancing timeline and urgency, you can put together a better presentation by finding out as much information as you can.
Great real estate presentations also center on property specifics. Your value to your seller can be showcased in how you package and market their home, whether digitally or in print. Get as many images as you can, including any videos of the property if available. As a minimum, you should have square footage, the listing price, as well as neighborhood information. This can come in the form of a detailed Comparative Market Analysis (CMA), where you present comparable home sales within a year and local housing market data.
For luxury listings, it helps to have social proof. Social proof is important in real estate and many other fields because we are more likely to make a purchase knowing others have done so already. It takes the form of reviews, testimonials, and social shares that customers provide about a product or service, or in this case, choosing the right agent.
Homebuyers want as much information as possible about the available agents, their strategies, their costs, as well as previous client testimonials before making a decision. You can come prepared by creating your own proposition statement, which outlines who you are and the value that you bring as an agent. This is great to create before a real estate presentation is even needed, something that can be done in advance and changed over time as you learn and adapt as an agent.
In our new digital age, people can quickly research who to work with. Ratings and reviews allow customers to give feedback on the services you provide as a real estate agent. If available, you can also provide real time stats about who is browsing your listings. Alternatively, try highlighting some of your best clients in a showcase or case study. Today, buyers and sellers alike regularly use information as power when evaluating a real estate professional to work with.
Choose Your Delivery Method
You can have all the research and information at your fingertips, but it won't matter if you don't have a way to present it. Think about how you plan to deliver your presentation; whether digital, print or both, consider what will best convey your Comparative Market Analysis, proposition and social proof. It also helps to consider how best to present the property specifics and whether this will be through a digital listing example or other means.
Not only can you deliver your presentation in multiple ways, but consider what needs to be done in advance. You can create a printed copy for an in-person meeting, and if so, it helps to utilize the PDF to print feature. On the other hand, if you plan to share it digitally, there are a variety of formats available, like a digital version of a PDF to share via email, or an ISSUU link to a digital flipbook. Choose the right format to get your value across, as well as what you're comfortable working with.
Get Ready-Made Templates to Work From
Option 1
When putting together a real estate presentation quickly, you don't have to do all the work yourself. You can hire a graphic designer or service to design you a custom presentation that's ready-made to use. Alternatively, you can ask for a template to populate with content as you lay out on your own.
Option 2
You can also get a presentation instantly by using our LUXVT online presentation creator that's offered to our members. You can generate a personalized Luxury Presentation tailored to any listing in just a few seconds from your computer, tablet or smartphone. It's a great tool to show sellers that you offer world class marketing. Your LUXVT presentation is personalized to any listing, featuring a property photo and address, as well as your branding and contact info. Show your prospective sellers exactly how their home will be showcased in elite media brands, along with international ads, savvy social media targeting and more.
Option 3
Another option is to get a free credit for on-demand presentations. You can use this customized digital catalog to impress your prospective seller and sign the listing. Edge out your competition with an On Demand Presentation for your upcoming listing appointments. It's a great way to show prospective sellers your elite real estate marketing program. It also helps you earn premium commissions and outpace the competition.
Impress your sellers with an elite global campaign, and pay when you sell the home. LUXVT lets you deliver world-class marketing for your listings. This includes placement in 100+ international Real Estate sites in key investor markets worldwide, a dedicated web and mobile site and luxe video tour to showcase your listing, as well as a Marketing Report and weekly activity emails to keep your seller informed and impressed.