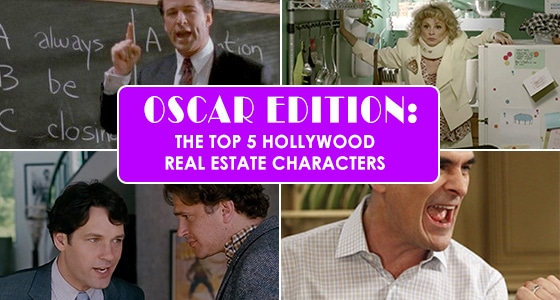 Oscars Edition: Our Top 5 Real Estate Hollywood Characters
---
In the spirit of the Oscars, we put together a list of our favorite real estate Hollywood characters. All too often real estate pros are portrayed as opportunistic, dimwitted or even downright evil (remember Lex Luthor's dastardly plan for California?). We like the following list of fictional realtors for their realistic character traits or because they make us laugh. Who are your favorites?
Peter Klaven, I Love You, Man (2009)
Paul Rudd plays lonely real estate agent Peter Klaven. After Peter gets engaged to his girlfriend, Zooey (Rashida Jones), he realizes he doesn't have any friends to share the good news with. He soon befriends eccentric investor Sydney (Jason Segel). Peter's friendship with Sydney teaches him about love, trust and standing up to insufferable coworkers.
Jim Evers, The Haunted Mansion (2003)
Eddie Murphy is a workaholic real estate agent named Jim Evers who gets stuck in a haunted mansion with his family in the Louisiana bayou. Evers was eager to make a deal off the home but after meeting its ghostly inhabitants, the deal goes South. The movie is based off the famous Disneyland ride of the same name.
Shelley "The Machine" Levene, Glengarry Glen Ross (1992)
Shelley Levene played by Jack Lemmon is a once successful real estate agent struggling to generate sales. Desperate to not lose his job, he tries to convince the office manager to give him the valuable Glengarry leads. After the office manager refuses, Levene tries to charm him, threaten him and bribe him. It doesn't work and Levene loses his job. However, Levene strikes back by stealing the leads with another agent and selling them to a competing company. The film also features a young Alec Baldwin who gives a great speech about "The Art of Selling."
Phil Dunphy, Modern Family (2009-Present)
The bumbling but kind hearted father in Modern Family played by Ty Burrell always makes us laugh. He loves magic tricks and all things nerdy but still thinks of himself as the "cool dad." As a real estate agent, he's very confident in his work, once stating he could "sell a fur coat to an Eskimo."
Pam the broker, Broad City (2015-Present)
Amy Sedaris plays an eccentric broker named Pam who tries to sell New Yorker Abbi on a "railroad style apartment." The room is so small it doesn't have room for anything. "It's a hallway," Abbi protests but Pam is clearly oblivious to the constraints of the apartment and continues to try to sell her on it.