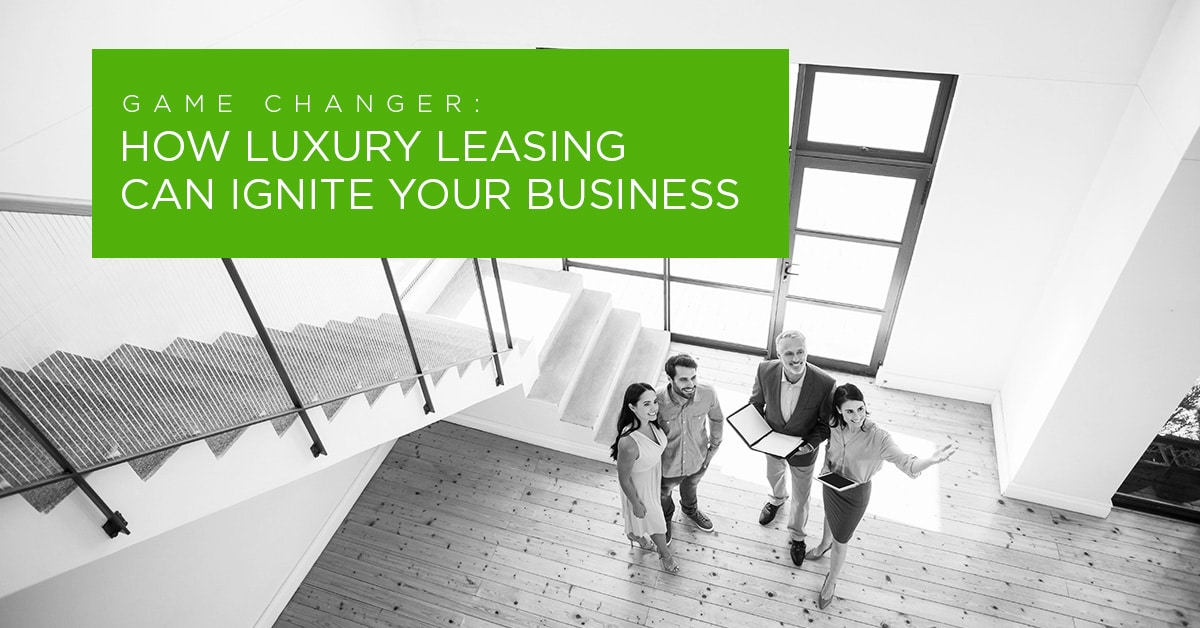 4 Ways That Luxury Leasing Can Ignite Your Business
---
If you're looking to build new relationships with affluent buyers and sellers, it might be time to consider offering a high-end leasing service.
It's a strategy that can work whether you're an aspiring agent looking to gain a foothold in a competitive market, or a well-established luxury broker determined to keep your inventory pipeline full.
While the average tenant placement fee for the agent can range from one half to a full month's rent, the real ROI in this tactic is not the fees.  It's the relationships you cultivate and convert into future Buyer and Seller sides. (In fact, we've even heard from agents who successfully offer a leasing service for free to qualified homeowners just because of the value of the contacts generated and the value of the future transactions!)
The reason this works so well in the luxury space is two-fold:
Clients seeking a high-end rental are usually in transition and likely to become buyers soon, as opposed to remaining long-term (more than 1-2 year) renters.
Homeowners who are looking to rent their upscale property are also statistically high probability sellers, particularly if they can't get the price they are looking for at the given moment. Many find renting a favorable option until the market is where they want it.
In short : Renters become buyers, and landlords become sellers faster and more frequently than in other market segments, and you can leverage this to your advantage.
Let's look at the 4 key reasons you should consider offering a Luxury Home leasing service:
1. Owners of "Non-Owner-Occupied" Luxury Homes Are Ultra High Value Prospects.
Why? One obvious reason is that owners of multiple luxury homes are extremely affluent and worth your time. For many, the decision to rent is not so much for the revenue but rather a "placeholder" in their lives and is a result of indecisiveness or emotional factors.
Frequently homeowners who try renting grow frustrated quickly and decide to sell – sometimes even before a lease is signed. If the owner is not a local resident, your relationship can become exclusive (and immune to competition from other local agents). Building these strong relationships can get you into the ideal position to leverage these situations!
2. High-Wealth Tenants Are In Transition – And Will Become Buyers
Clients seeking a high-end rental are frequently in transition (job relocation, divorce) and looking for a shorter term situation as opposed to a longer term lease. This means they are likely to become buyers soon, and you're in the perfect position to assist. Not to mention, some of the prospective tenants you'll interview may be on the fence, and may become buyers even sooner if they don't sign a lease! By getting these prospective buyers into your pipeline early on, you'll set yourself up for success down the road.
3. One More Source For Great Brand Visibility
The yard signs, Zillow posts and other marketing materials you deploy for the rental are a great way to keep your name and brand visible within your area. You'll continue to be associated with "prestige" properties and will solidify your reputation as such.

4. You Already Have the Tools and Know-How
As a Real Estate agent, you already have the experience, tools and the know-how to successfully place tenants in high-end homes that suit their needs. Adding rental placement to your repertoire is a relatively seamless process that doesn't require many additional tools or skills.
Realtor Joelah Ariel of Charles Rutenberg Realty is just one of the many agents embracing this opportunity. Her advice to other agents who may be hesitant? "Go for it!"
"Two of my potential high-end buyers are from high-end rentals or ordinary rentals. I have two clients who have expressed an interest in using me to buy their homes with because of how tenacious I was to set up their rental units for them. It hasn't happened yet but I've been nurturing them for a while and keeping in regular contact. One has just let me know that he is getting ready to look soon and set up his loan approval. Those people know people who know people who are also in the luxury market. Keep your options open. I think working on luxury rentals is ideal for breaking into that market."

Offering high-end rental services is a valuable tool to build relationships that will surpass the end of the tenant's lease. Make sure you remain in contact with all potential tenants and the homeowner and the payoff will be more than potential commission.