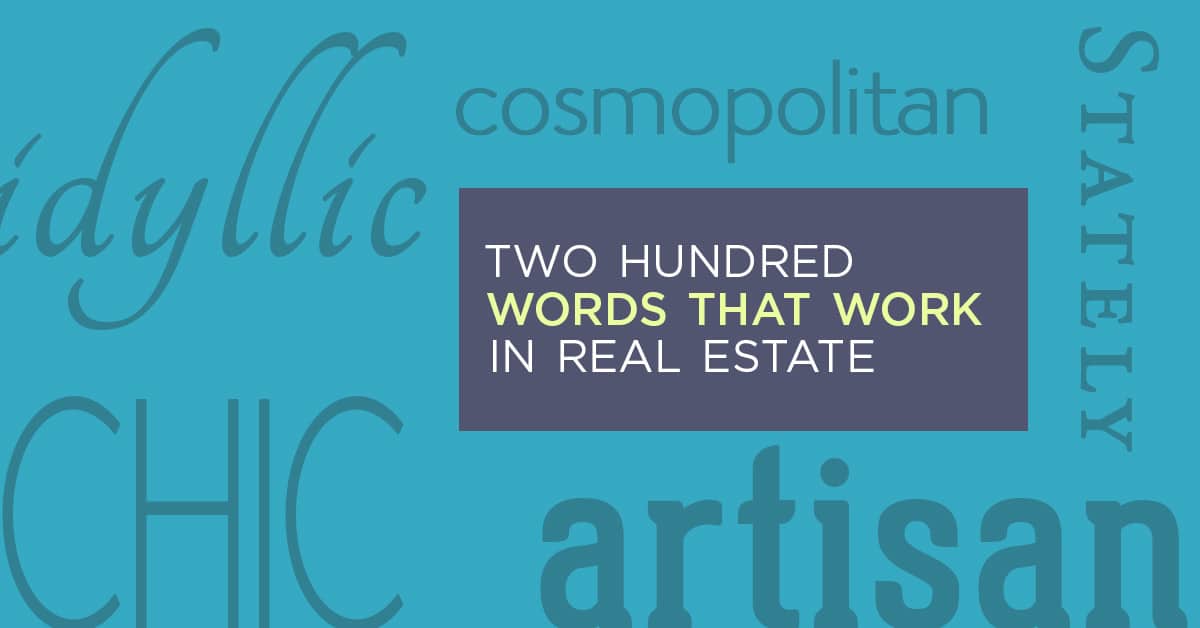 200+ Real Estate Descriptive Words
---
Need some new ammo for those luxury real estate listing descriptions? We've compiled a list of some of our favorite real estate descriptive words to make those listings POP! Our list of Real Estate Words will help your copy sizzle and capture the buyer's imagination!
---
AMAZING ADJECTIVES
---
Alluring
Astonishing
Breathtaking
Brilliant
Captivating
Crisp
Dazzling
Discerning
Divine
Effervescent
Enchanting
Enrapturing
Enthralling
Enticing
Exceptional
Exquisite
Fabulous
Harmonious
Magnificent
Marvelous
Outstanding
Rare
Resplendent
Sensational
Sophisticated
Spectacular
Stately
Striking
Soothing
Stunning
Sun-drenched
Timeless
Unmatched
Unparalleled
Upscale
Warm
Welcoming
KITCHEN KEYWORDS
Awe-inspiring
Bright
Capacious
Complete
Cutting edge
Decked out
Designed for convenience
Dream
Enormous open air
Equipped
Every convenience
Modern
Open concept
Outdoor entertaining
Perfect for the inspired home chef
State-of-the-art appliances
Stocked
Stylish
Sunny
Ultramodern
Vast
Workmanship
VIVACIOUS VIEWS
Amazing
Astonishing
Bewitching
Breathtaking
Captivating
Cityscape
Delightful
Dramatic
Enchanting
Endless
Enthralling
Ever-changing
Exquisite
For miles
Iconic
Inviting
Luxuriate in
Magnetic
Mountainous
Natural
Panoramic
Peaceful
Picturesque
Savor
Soak in
Uninterrupted
Unobstructed
ATMOSPHERIC ADD-ONS
Alluring
Casual
Charming
Chic
Choice
Classic
Consummate
Contemporary
Cosmopolitan
Custom
Desirable
Elegant
Enticing
Exceptional
Exemplary
Expansive
Exquisite
Glorious


Graceful
Idyllic
Illuminating
Impeccable
Impressive
Lush
Luxurious
Majestic
Notable


Private
Prized
Quintessential
Refined
Sleek
Sophisticated
Sought-After
Stately
Superior
NEIGHBORHOOD NICETIES
Affluent
Bucolic
Charming
Chic
Elegant
Enchanting
Exclusive
Family-friendly
Gated
Historic
Lavish
Leafy
Lively
Peaceful
Posh
Prestigious
Quiet
Serene
Sleek
Sought-after
Storied
Tranquil
Tree-lined
Trendy
Upscale
Urban
Verdant
Well-kept
NIFTY NOUNS
Bungalow
Cottage
Diamond-in-the-rough
Enclave
Estate
Gem
Get-away
Home
Jewel
Masterpiece
Retreat
Sanctuary
Second home
Treasure
Vacation home
Villa
ICONIC INTANGIBLES
Comfort
Convenience
Charm

Elegance
Grace
Harmony

Hallmark
Pinnacle
Style

Symmetry
Timelessness
Taste
Warmth
ALLURING ARCHITECTURE
Federal
Bungalow
Cape Code
Chateauesque
Colonial
Contemporary
Cottage
Country
Cracker
Craftsman
Dutch
English Cottage
European
Farmhouse
French Cottage
Georgian
Gothic Revival
Greek Revival
Italianate
Mediterranean
Midwest
Neo-classical
Neo-traditional
New American
Norman
Northwest
Plantation
Project
Queen Anne
Ranch
Salt Box
Second Empire
Southern
Spanish-style
Split Level
Tidewater
Traditional
Tudor
Victorian Eclectic
We also asked several agents to share their go-to listing vocab with us:
Beth Wisinski of RE/Max: "Stellar; flooded with light; vast open concept"
Jeanne L. McGuinn, Realtor/Owner of Realty Broker Direct – Mcguinn Team:"Captivating; breathtaking; sparkling; impressive; panoramic views; meticulous; striking; impeccable; inviting"
Emily Strunk Helm, Realtor at HomeSmart Realty: "Spacious; exclusive; cozy; quaint"
Share YOUR favorite words with us in our UpMarket Agent Facebook Group for a chance to win 100 FREE listing cards!