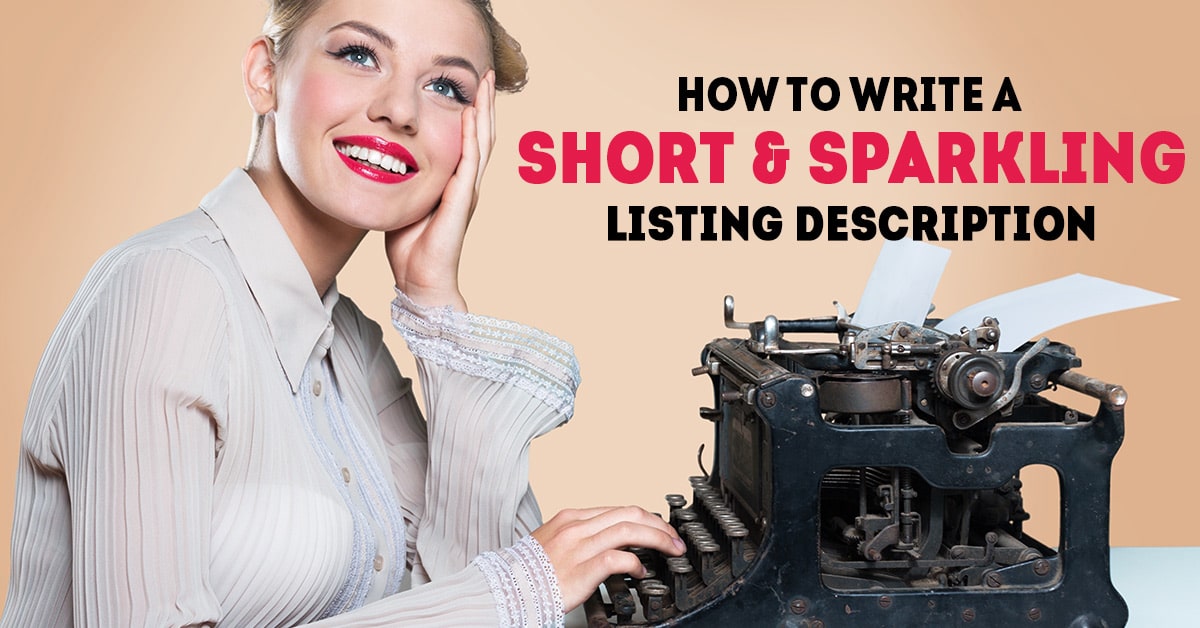 How to Write Short and Sparkling Listing Descriptions
---
Let's face it, not everyone is a natural-born writer. Fortunately, you don't need to be the next Hemingway to craft compelling listing descriptions, just an agent with a great thesaurus handy! Learning to write these effective listing descriptions will not only impress your sellers, but will also help your listings get noticed. Ready for a crash course? We've compiled our favorite tips for creating listing descriptions that stand out!
A Few Simple Rules
Rule #1: Keep it Short and Sweet
No one is going to read a lengthy listing description. Stick to the key features that make this property worth buying and craft your content to attract these buyers. We typically recommend our "perfect 3 paragraph" listing which you will see below.
Rule #2: Avoid Bullet Points
Bullets are great for conveying short, concise thoughts but they don't work well for your real estate listing descriptions. That's because the formating can be skewed when it's published across different channels. For instance, your ad make look fine in one publication, but the bullet point characters may show up as missing icons or create odd spacing in others.
Rule #3: Use Spelling and Grammar Check
Your listing will lose its edge if it's riddled with spelling and grammatical errors. If you're using Microsoft Word for your writing, be sure that spellcheck is activated. If you are looking for online tools to help you, there are several free options. Several are listed below:
Rule #4: Use Visual / Sensory Language
A great listing description will make a buyer feel like they are there. Use visual language to inspire this feeling. Unlike your traditional business writing, listing descriptions are a great place to be creative and a bit more visceral with your language.
Need some inspiration? Check out our list of more than 200 real estate words!
Rule #5: Add your contact info to the body
This rule is optional, however, we recommend adding your contact info to the body of the description. This will decrease the risk that your contact info will be separated from your listing for any reason. You've probably seen this happen on Zillow. Your contact information is lost in the shuffle and a featured agent appears near YOUR listing. Adding your contact information either in the first or last paragraph minimizes this risk.  
NOTE: You can't do this with your MLS listing, but it's a good idea to do it everywhere else.
The Perfect 3-Paragraph Listing
First Paragraph: The "Wow" Factor
Here's your chance to make a great first impression! In this paragraph you should highlight one or two features that make this home special. What are the first things that caught your interest and made you want the listing? Cover these features briefly in no more than three or four sentences. This will serve as an intro to entice the reader and leave them wanting more.
Example: Located on the tranquil coastal shores of the Pacific Ocean, this bewitching home features enchanting panoramic views from every room. The elegant contemporary design and high-end finishes add a touch of class to this resplendent beach home. You'll enjoy 270' degrees of unobstructed ocean views and a private backyard on the sand.
Paragraph Two: Interior/Exterior
Next you'll want to cover details of both the interior and exterior. Mention scenic views, indoor and outdoor amenities and unique features. If the home has brand new state-of-the art appliances, hardwood floors and a lush lawn, for example, this is a great place to highlight it.
Example: In addition to four deluxe master bedrooms, this stunner features a vast, open gourmet kitchen, a grand master ocean-facing bedroom with a romantic fireplace, a magnificent art studio, and a spacious family room. This exquisite home also includes floor to ceiling windows, grand vaulted 25' ceilings, an open floor plan, two fireplaces, a bar room, a swanky entertainment patio and an inground pool.
Paragraph Three: Location and Call-to-Action 
What aspects of the location are unknown simply by looking at the address? Mention attractions and amenities located within close proximity to the property. Sum it all up and create a sense of urgency and an immediate call to action. This can be as simple as "call now to see the property," or "email me for more information." The CTA should be short and direct, outlining the next step and how to take.
Example: This beachfront bombshell is located in the breathtaking coastal town of Imperial Beach. With picturesque views, spacious indoor entertaining areas and luxurious fixtures, this one will not last long! Call 555-555-5555 today to schedule your viewing.