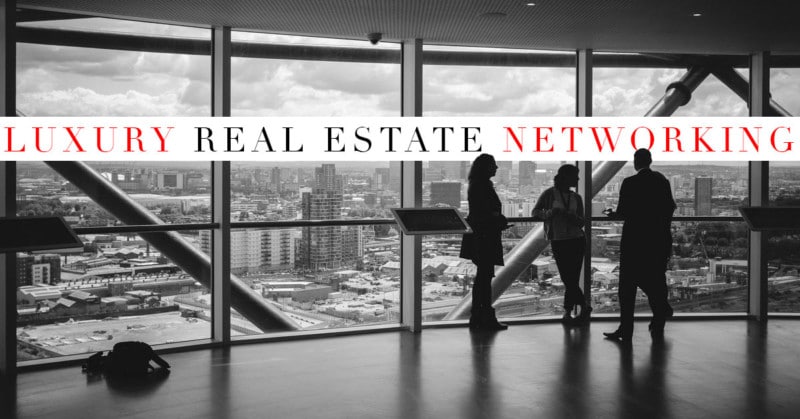 7 Promising Places To Find Affluent Clients
---
As a luxury real estate pro, your business succeeds through the strong relationships you build.
The pandemic brought everyone's networking possibilities to a sudden stop. Now, we are entering a new phase where people are becoming more comfortable attending events and getting their life back to normal.
Just like you may be realizing it is time to expand your business network to build upon your affluent client list, they likewise may be out there looking for someone to take care of their luxury real estate needs.
This may come to you as a refresher, but here are 7 common social places to meet and mingle with upscale home buyers, sellers, investors, and other industry pros.
Looking to build your network to a larger reach and closer precision? Check out LUXVT Farming.
Charity events
The wealthy love to get out and support charities and nonprofits at upscale dinners, luncheons and galas. This is a fantastic medium to mingle, meet others that share your values, and to connect with them in a warm way, while supporting a good cause yourself. If you're watching your wallet, see if there are volunteer opportunities that will save you the price of a ticket.
Garden clubs
Show your green thumb! Garden clubs often attract individuals interested in home improvement and real estate, with both income and time to spare. They'll appreciate having a real estate professional nearby that they can go to for advice.
Sports and exercise clubs
Affluent professionals today are more likely to spend their spare time keeping fit. Develop a presence at a local club or join a neighborhood adult sports league. Attending a yoga or spin class regularly will help you get to know the locals.
Historical societies
If your interests lie more in the Typically their members have deep local roots and connections—just the right sort of person to rub elbows with. Plus, you'll learn a ton about the area and be able to polish your image as the "local expert."
School activities
Connecting with local schools is a great way to meet homebuyers looking for a bigger home for their growing families. Sponsor or mentor youth sports teams or a school's performing arts departments to get to know the parents.
Senior support
High-wealth communities tend to skew older demographically. You can build a bond with this audience by being available for real estate advice for seniors looking to downsize or seeking guidance on wealth management, tax and estate planning. Consider holding regular coffee or lunch meetup groups for seniors to help them with these issues.
Arts & culture gatherings
High end real estate and art goes hand in hand. Those that appreciate collectible contemporary art likely have an equally opulent apartment or estate at which to display it. Some of the most notable real estate developers have even been instrumental in establishing and supporting museums and performing arts venues.
And don't forget to follow up
Of course, once you've made the initial connection it's essential to keep up the communication with strong CRM practices, social media engagement and brand awareness advertising. Keep up the marketing drumbeat to ensure yourself a record-breaking year. Tell us, where do you go to meet new clients?
If you are still hesitant to attend social events, you do have other options. Check out LUXVT Farming.