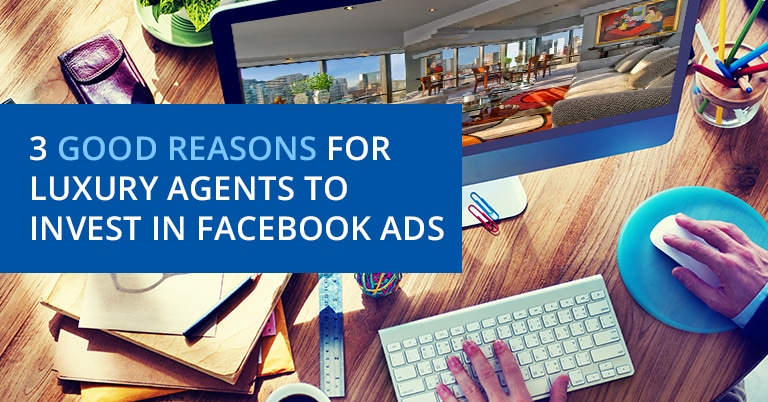 3 Really Good Reasons for Luxury Agents to Invest in Facebook Ads
---
Facebook ads have changed a lot over the past few years. Today, ad objectives are more diverse, tracking is a lot better, and audiences are more receptive to sponsored content. In addition to general benefits that come along with advertising your services – like increasing brand awareness and attracting new leads – there are three other really good reasons why luxury agents should use Facebook ads to build their business.
1. Access to Top-Notch Lead Targeting:
Facebook uses their display network to serve ads to a carefully targeted group of leads, as defined by you. You can specify who you want to target using criteria like age, homeowner status, household income, city, zip code, and much more. Dialing in exactly who you want to reach and being able to cater your content to that audience gives you a lot more control over the success of your campaigns.
2. Easy Budget Management
Whatever your ad budget, Facebook makes it super simple to manage your money. You can set a per-ad or per-campaign budget within a specific time range and can set a lifetime cap on your account to make sure you don't go over a certain threshold. And thanks to in-depth reporting, automated optimization settings, and valuable engagement insights – it's easy to see which of your ads are performing the best so you know where to focus your funds.
3. Comprehensive End-to-End Tracking:
Facebook has put a lot of work into improving their analytics over the past couple years. Today, you can use the Facebook pixel to track leads from your ad to your website and can see see who converts and on which pages. You can also use the pixel to gather demographic data about your site visitors, and use that data to create lookalike audiences that you can target with your ads. Additionally, in-depth tracking tools give you access to a ton of valuable data that can help you create and optimize campaigns that resonate well with your target audience.
Other cool Facebook ad features:
• Enjoy free stock photos
Stock photos get pricey, and it can be time consuming to try and find the perfect image to match your ad. Luckily, Facebook teamed up with Shutterstock to offer thousands of high-quality images that advertisers can use – for free! When you create your ad, just click on the 'Free Stock Images' button to browse the library.
• Get insights into your most active page visitors
The Facebook insights tool provides lots of great data on who's engaging with your page. See where your audience lives, find out if you attract more male or female leads, learn what their age group distribution is, and so on. Then, use all the details you learn about your most engaged page visitors to improve your ads.
• Create an ad that links to multiple website pages
Facebook's multiple image ad format, or image carousel ads, allow you to link one ad to multiple pages on your website. This can be an excellent tool for agents who want to direct buyer leads to a different page than seller leads. As an added bonus, multi-link promotions save you time by allowing you to test multiple incentives at once and see which perform best!
• See how your ads are performing on a sliding scale
Facebook's ad scoring uses an algorithm to grade advertisers on a scale of 1-10, with a goal of showing you how relevant your ads are to your target audience. The higher your relevance score, the better your ad is performing. You can use this tool to help influence where to allocate your budget and how to come up with copy and images that do a great job of connecting with your ideal lead.
As you can see, there are lots of cool tools and features Facebook ads offer to luxury agents looking to expand their brand awareness and lead generation efforts. Take advantage and start targeting this untapped lead source today!