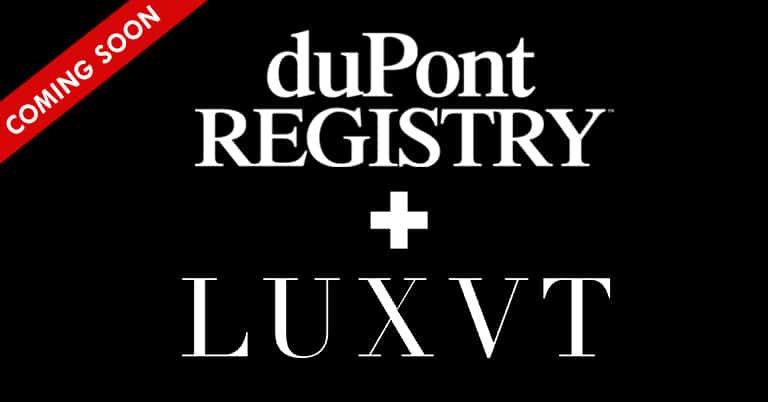 DuPont Registry Release
---
LUXVT Adds duPont Registry to Elite Pay at Close Program Luxury real estate marketing agency, LUXVT, introduces premier publication, duPont Registry, to elite marketing campaign
San Diego, CA – Today, LUXVT announced the inclusion of duPont Registry to their popular Pay at Close marketing campaign. duPont Registry is a premier luxury publication with 1,000,000 monthly pageviews that reaches affluent subscribers worldwide, showcasing property listings in front of highly qualified leads.
"I'm excited to include such a trusted, high-end publication in our marketing suite that will allow us to extend our reach and strengthen our current presence," said Heather Babcock, VP of Sales and Marketing at LUXVT.
As part of the Pay at Close campaign inclusion with duPont Registry, property listings will be viewed alongside content that serves to educate, entertain and influence the purchasing decision of ideal customers. All listings will include a virtual tour link, photos, property description and contact information.
duPont's Registry readership includes:
500,000 Monthly Unique Visitors
1,000,000 Monthly Page Views
546,000 Instagram Followers
20,400 Twitter Followers
5.7 Million Facebook Fans
LUXVT ads will be featured on duPont's Facebook page as 'Home of the Day' with average exposure of 30k in just 24 hours! Each ad will have a link back to the agent's listing information so potential buyers can contact the agent instantly.
About LUXVT: LUXVT provides marketing technology for thousands of upscale and luxury real estate professionals, offices and franchises throughout North America. Headquartered in San Diego, California, LUXVT is a provider of innovative marketing, presentation and technology solutions for prestige real estate. LUXVT clients include hundreds of top-producing real estate agents, brokers and developers throughout the country.