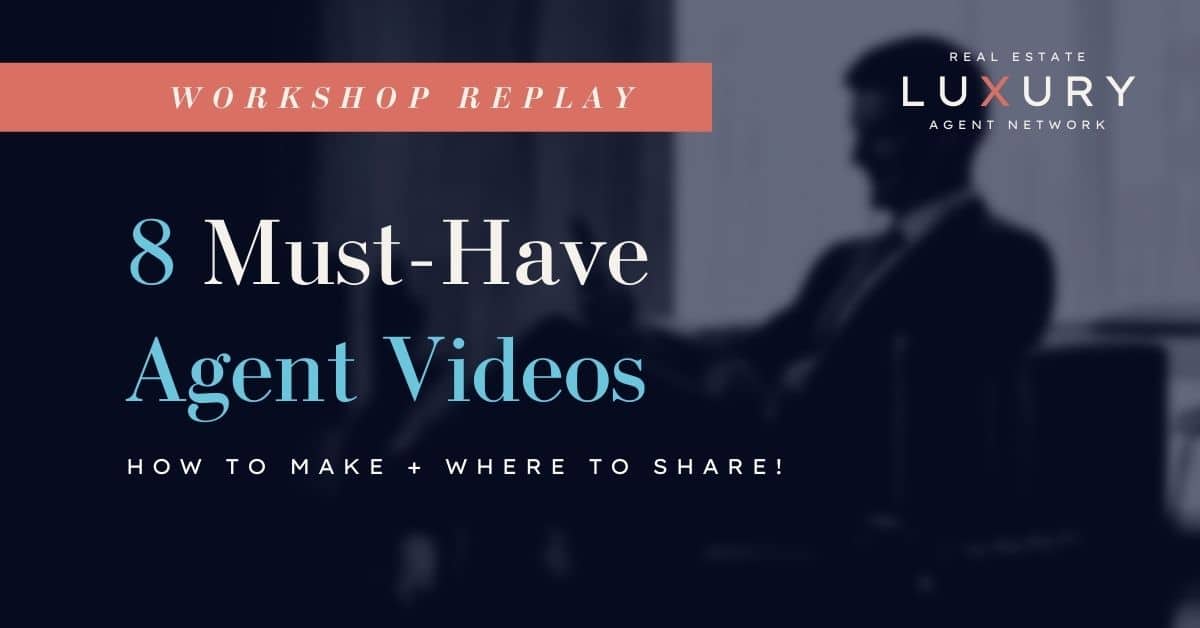 8 Must-Have Real Estate Video Ideas for Agents
---
Real estate video should be just one aspect of a multifaceted marketing strategy for finding high-end clients. Agents should not necessarily expect immediate results from video, but rather see it as a way to get more people through the door. Having a video plants a nice seed that can germinate in a luxury client's mind.
On social media, video marketing means more engagement than text or still photography, regardless of the product being sold: tweets with video attract 10 times more engagement than tweets without, and Instagram anticipates that by 2022, video will account for 78% of total mobile data traffic. Between Instagram, Facebook, and YouTube, there's a 90% chance your buyer is on one of these platforms, and you need to be too.
Here are our top 8 suggestions for real estate video ideas that you can implement into your lead generation strategy today. You can also watch our latest workshop below, where coach Jeremy Collins goes through each video idea in detail. Interested in one-on-one, personalized coaching to take your videos to the next level? Check out LUXVT's Member Marketing Agency.
Watch The Workshop
1. Personalized Email Videos
The best real estate video that you can create as an agent is a personalized video. These are videos that answer a question, offer advice, or maybe even personally deliver data from your comparative market analysis (CMA) for one specific lead or client. Some ideas include:
Private listing walk-through videos
Explainer videos for the buying or selling process
Answering specific questions your lead or client asks
A quick explainer for a group of listings you just sent them
Walk-throughs of downtown or local shopping areas
A summary of local school districts
To send personalized videos via email, you can use an app like BombBomb, or a customer relationship manager (CRM) like LionDesk that allows you to send video emails.
2. Listing Walk-through Videos
Take the hassle out of touring homes by providing walk-through videos for your clients. If you have a client who is moving from out of state or a few towns over, a video can be a great way to showcase a listing before they can even see it in person. Walk-through videos are also a great way to get more eyes on a listing than ever before. You can use your walkthrough videos on Zillow or in your digital advertising, and you can repurpose your walk-through videos by using snippets on your Instagram/Facebook story or Instagram Reels.
3. Educational Real Estate Videos
One of the best ways to nurture leads is to offer them your deep local expertise. Sure, you can write up a 3,000-word blog post explaining the ins and outs of closing costs for your lead, but what if you could explain closing costs in a fun, natural, and conversational way? Recording an educational real estate video allows you to do just that. These videos will help your client get to know who you really are. They're getting used to your speech patterns, your sense of humor, and your ability to make complicated information easy to understand. Some educational videos you can film now and have on hand: first-time buyers introduction to real estate, neighborhood guides, closing costs explainer videos, buying or selling process videos, or Homeowner Association (HOA) explainer videos.
4. Agent introduction videos
Even though you may try your best to answer every new lead with a personal phone call, reality can sometimes get in the way. You could be driving, at a closing, sleeping, or making your daughter breakfast. Of course, you still want your leads to get to know you, right? "Sorry, I can't get to the phone right now," or "Please check out my listings on my website," are acceptable replies, but they're also easy to dismiss. Why not send them an introductory video that lets them get to know you instead? Your introductory video can be as simple or as elaborate as you want, just remember to keep it genuine.
5. Happy Birthday Videos
We'll keep this one short because it's a no-brainer. This is a perfect reason to connect with someone. You don't need an excuse to send them this. Facebook even tells you who to send it to! And no, you don't have to sing happy birthday (unless you really want to).
6. Real Estate Stories and Reels
Using video on Instagram is the #1 way you can increase engagement and grow your following right now. While creating video content for social media might seem overwhelming and intimidating, it really means that it's never been easier to connect with your community and your potential clients. The best way to get started with Instagram Reels or stories is to just dive right in. To make your life easier, you can repurpose any other real estate video, like a listing walk-through, educational, or introduction video for social media.
7. Client Testimonial Videos
While social proof is an increasingly important way to vet real estate agents, many people take anonymous, written reviews with a grain of salt. After all, it's very easy for pretty much anyone to sit down and write a fake review! In order to cut through the noise online and provide more direct social proof, you need to start working on client video testimonials. Approach clients for a video testimonial a week or so after closing. Give them a script to follow when writing and reading their testimonials. Now you're ready to film! Try to shoot all your testimonials in the same place to keep your brand image consistent. Also, consider combining your introduction video with some client testimonials to make your services that much more enticing.
8. Quick Text Videos
Quick text videos, like agent introduction videos, are a great way to save yourself the time of answering each individual question via email or text. These should be saved on your phone – ready to go. You don't necessarily need any fancy setup or equipment to film these either. Selfie-style will work just fine. Some ideas of text videos you can create are a clear-to-close video, a new lead intro, or a "thank you for visiting the open house" video.
Some tips for all real estate video ideas
Make sure you have a game plan and a script ready to go, to minimize any awkward pauses or unnecessary filler words.
Invest in some gear, like a stabilizer for your phone and a good microphone.
Hire a pro! Even if it's only for the editing. Having a professional videographer or editor on-hand can be a great investment when you're trying to knock out a lot of videos at once.
Practice, practice, practice. Don't be afraid to shoot a video multiple times until you feel like you've got it down.
Get feedback on your videos from fellow agents or trusted mentors before you send/post.
If you're interested in more luxury real estate tips and tricks, join the Luxury Real Estate Agent Network, our private Facebook group where you can access free workshops and podcasts to help you step up your game. You can also read more of our latest advice and insight in our blog.